Food Informants is a week-in-the-life series profiling fascinating people in the food world. We hope it will give you a first-hand look at the many different corners of the food industry. Know someone who would make a great Food Informant? Tell us why.
Brian Noyes left 25 years of magazine art-direction (Smithsonian, House & Garden, The Washington Post) to launch a rural bakery in the Virginia Piedmont hunt country 50 miles west of Washington, DC. Trained at the Culinary Institute of America in Hyde Park, NY, and at L'Academie de Cuisine in Maryland, he bought a red 1954 Ford pickup from designer Tommy Hilfiger, renovated a 1921 Esso service station in Old Town Warrenton, Va., and threw open the Red Truck Bakery doors in August 2009 just as the economy started to plummet. Rave reviews by The New York Times, Garden & Gun, Southern Living and other publications turned this three-chef bakery into a small town coffee stop with a big online presence, sending out hundreds of orders nationwide each month. He lives in Arlington, Va., with his partner Dwight McNeill and has a farmhouse 20 minutes from the bakery in Orlean, Va. where he usually stays during the week. Two bakers, CIA graduate Kevin Powers and Ryan Glendenning from the Restaurant School in Philadelphia, round out the kitchen staff, with Nicole O'Brien on sandwiches and granola.
Noyes kept a journal the week after making 400 Thanksgiving pies just as the Christmas season geared up. Read about his incessant baking below:
Monday, November 28
After a slammed Thanksgiving week, my partner Dwight and I spend the weekend cleaning up the bakery and decorating it for Christmas. The bakery was closed Saturday to give the staff a break after a busy week, but online ordering and the American Express "Small Business Saturday" campaign (with our flat $5 shipping) gave us our best day ever -- without even opening our doors.
3:00am: Leave Arlington, Va., for the 45-minute freeway drive to Fauquier County. Thanksgiving completely wiped out our pantry; I stop at the 24-hour Harris-Teeter supermarket near the bakery for items to hold us over until our deliveries arrive. I see only one other customer in the grocery ghost town: the Inn at Little Washington's pastry sous chef Brett Gauthier, who lives near the bakery. He's limping with a broken toe after a kitchen accident the night before. I try to find someone to ring us up.
4:30am: At the bakery. Head baker Kevin Powers and assistant baker Ryan Glendenning have muffins and croissants in the oven. Our harvest wheat dough (with cranberries, golden raisins and walnuts) is on a mixer; Ryan's working on our double-chocolate moonshine cake (made with real Virginny hooch). Ordinarily I push one of the two bakers off my table so that I can start pies or quiches; today I'm at the computer until noon sorting through the 250 online orders that arrived over the weekend -- on any other Monday, there might just be a dozen or so. Complicating things: we just redesigned the website and there are plenty of goofs: people are ordering, getting error messages and then reordering, while the original order came through just fine. I print them all out and go back through the pile looking for duplicate orders and after receiving some changes ("I forgot to add a greeting!"). Ryan takes over the cakes and cranks out bourbon cakes, triple-chocolate cakes, apple cakes and rum cakes. Kevin's chopping vegetables for his Caldo Verde soup; he's a magician with a stockpot. For a Monday, the place is smokin'.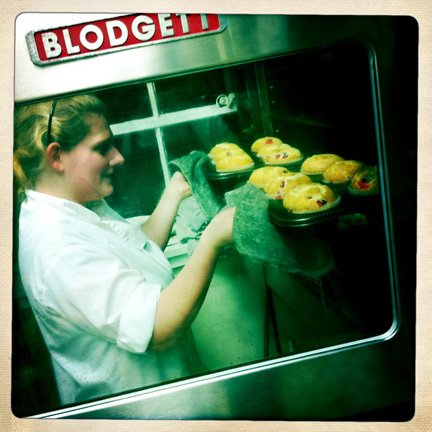 Noon: Sending relentless emails to our website designers begging for emergency tweaks; the duplicate orders and error messages continue. I have a pile of baked goods that need to ship today; I print out the UPS airbills, send the customer a note saying it's going out the door, and handwrite either a note to the orderer or a gift card to the recipient. Ryan texts us to let us know that she hit her second deer on the way home.
3:00pm: I finally put on an apron and make mincemeat for our pies; many ship tomorrow. I used to import British suet for the mincemeat but now our friends Derek and Amanda Luhowiak have opened The Whole Ox butcher shop nearby and trade the suet for baked goods. Last December, Esquire magazine wrote about my one-man campaign to resurrect authentic mincemeat pie; lots of orders come in for pies for dads and grandads. The praise arrives later.
4:00pm: Mad dash to the state-run ABC store for booze: brandy for mincemeat; rum and bourbon for those cakes. Elsewhere I pick up a case of moonshine.
4:50pm: Pies in oven. I remember next weekend's Christmas parade in Rappahannock County, in which we'll be a part, and yank out our red 1954 Ford F-100 's 6-volt dead battery and high-tail it to the Firestone dealer before they close; it's on the charger for the night.
7:10pm: Home at the farmhouse and do three loads of laundry. Pick the last of the persimmons by flashlight; I'll use them in cookies (my grandmother's recipe) at the bakery. In bed by 8 pm; up at 2 am.
Tuesday, November 29
2:00am: After years of working normal hours in magazine publishing, I thought I finally had this early-morning bakery thing down. But today it's all going wrong. In the shower I used the hair conditioner instead of face soap, got locked out of the house while warming up the car, and tried to unjam the zipper on the pants I'm wearing with a steak knife -- I knew that couldn't end well.
4:00am: The drive from the farm to the bakery is usually 20 minutes but in deer-rutting season it's literally murder to go over 35 mph on the backroads.
6:00am: UPS airbills printed for the day's orders; a much-more manageable amount of orders need to be shipped. But my luck doesn't hold out: the color printer dies, which means we can't print labels for our in-store and shipped goods. Staples doesn't open until 8am.
7:00am: The chilly morning turns into a crappy rainy day, which just kills sales at the bakery. Although we're adjacent to the courthouse, library and county offices, if it's raining the locals don't venture from their desks. Undaunted, the kitchen crew finishes up the breakfast baking -- what's left over at the end of the day can be sold day-old tomorrow or taken to the local food bank.
8:00am: Nicole arrives to make sandwiches. Local farmers sell us poultry; we roast the chickens here and make a great chunky chicken salad sandwich with grapes, apples, walnuts and a hint of curry. The eggs are local, too, and we use them in our egg salad and all of our baking (love those orange yolks!). Tuna, roasted veggies and meatloaf round out the sandwich offerings: it's all grab-and-go; we have them in the fridge up front by 11 am. I'm at Staples when it opens; I buy a new color printer, wrestle it in and out of the car, set it up and get the labels printed.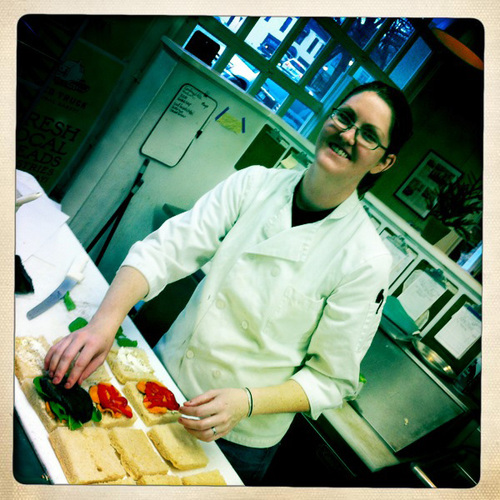 8:30am: Oops, never underestimate your customers -- even in the rain, in comes a crowd. And they're squatters: it's a big group of loyal online customers who drove up from Florida; they wanted to visit the Red Truck Bakery for the first time and are meeting other relatives here, eating for hours. They tour the shops of Old Town and come back again for lunch. We love 'em.
10:00am: After entering a Twitter competition, I get an email inviting me and Dwight to the White House next Monday for a holiday tour and morning round-table discussion "with administration officials," including the White House pastry chef. It's a day-long affair and one I'd hate to miss: can I afford to go in the middle of Christmas baking and shipping?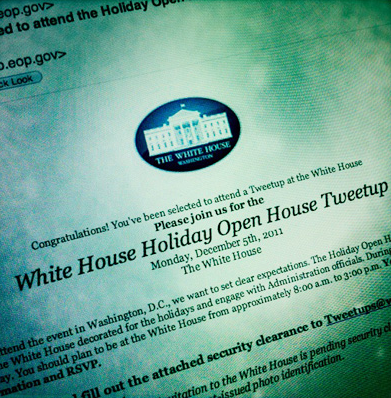 11:00am: In addition to the regular load, Nicole finishes making and wrapping 30 extra sandwiches for Highland School, a private upscale institution with, remarkably, no cafeteria. The woman who placed the order arrives and says she wanted boxed lunches -- so we race around to package these up, add chips, apples, water and cookies. She later realizes she never exactly said box lunches when ordering, but we're happy to help.
11:30am: A timid request lands a deal: The landlady offers up vacant space two doors down if we need it for shipping our packages. She's a God-send; last year we had to close the dining room so that we could use the communal table for packaging. "We'll take it!" Even better: it's free!
12:30pm: In comes actor Robert Duvall and his wife Luciana. They're neighbors with a large farm up the road and are good customers at the Red Truck Bakery. Most customers recognize him right off and ask him about movies. I tell 'em later: if you really want to start a conversation, talk about beef. Duvall knows the best steakhouses anywhere. You name a town, he knows the meat. "Tampa? Yeah, yeah -- great steaks at Bern's."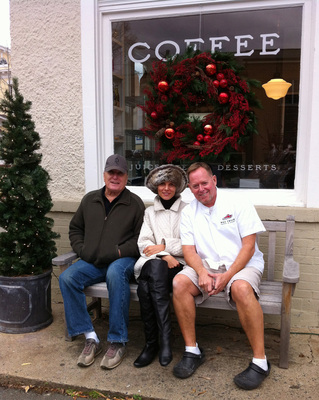 2:00pm: Truck's battery needs replacing; ordered a new one: "But it needs to be here by this weekend's parade." They want a loaf of our focaccia to grease their palms. Done deal.
3pm: I'm back in the kitchen baking quiches, apple cakes, triple chocolate cakes and sweet potato/pecan pies.
4pm: More ordering errors; another round of wrangling for website fixes. I'm promised that it's done and goof-proof. We'll see. Email from England: a woman wants a pie baked and delivered to Los Angeles by tomorrow morning. This one is hard to explain to her.
5:30pm: We flip the "open" sign around and everything that's come out of the oven this afternoon needs to be wrapped by the store closers. They're never really thrilled about cleaning up after the bakers, but they know no one else is around to do it.
6pm: At the farmhouse. Into bed after Brian Williams finishes the news. Set the alarm for 1:30am.
Wednesday, November 30
5:00am: I make a bank deposit through the after-hours depository and leave a box of pastries at the door for the Oak View National Bank gang -- this small-town bank was a big help getting me started. Florian Dengel arrives with his eggs and chickens; he and his cousin Timm have a new farm; we're their first customers.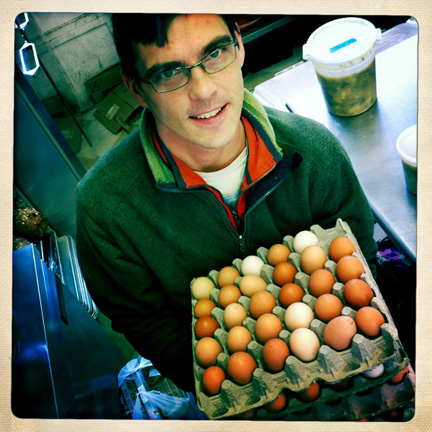 5:30am: Veronique arrives to open the store. She's a pro with a sense of style: presentation always is stellar when Veronique's on duty. She starts complaining about the dirty baseboards and walls in the retail space. I fire off an email to the cleaning crew supposedly doing the job: we're promised a thorough scrubbing tonight.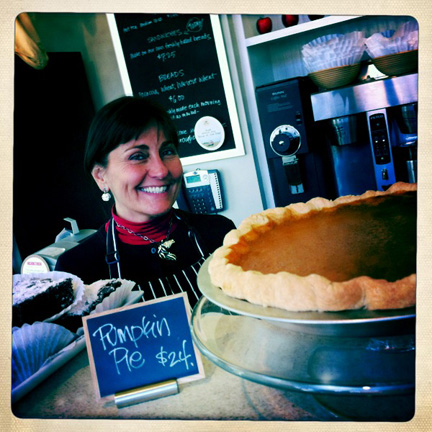 7:00am: Regular routine in the kitchen; everyone knows what needs to be done and gets it baked. We're all a little overwhelmed; not fully recovered from the Thanksgiving frenzy, we're now thrown into an escalating Christmas bake. Dozens of orders are now shipped everyday; we're handling that plus the accelerated orders out front. In the kitchen: Three pros and -- finally -- a dishwasher who is trouble-free. We've had nine dishwashers since we opened two years ago; I began to think every dishwasher first had to make a stop in jail before showing up here with an application (one of them, after calling me up to say he was being detained, told me the cell he was in was really small: "I usually get a larger one"). Rosso is a self-starter, and looks for things to keep busy: "I'll do that for you" he says.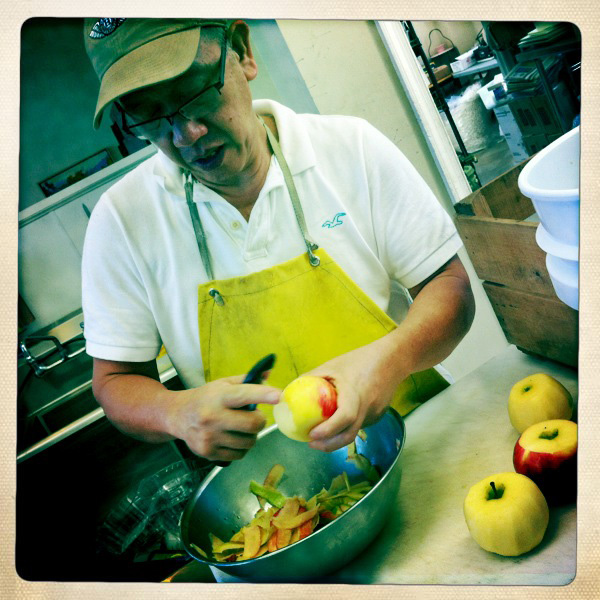 1:00pm: A couple from out of town comes in for pastries, and tells us their son told them to stop by "because Robert Duvall eats there." Seconds later, in walk the Duvalls with a woman who owns a local horse arena; they grab some lunch and he chats about films with the couple. Luciana Duvall and her assistant Daisy give us their Christmas gift list to fill, we'll be shipping items to their actor friends, including James Caan, and to Duvall family members. Last year they assembled a gift box of our harvest wheat bread, coffee cake, granola and bag of coffee and asked that we send that as their gifts. We've since christened the collection "Bobby's Breakfast-in-a-Box" and put it on our website, giving them full credit for the idea. I give ten bucks from each purchase to the Robert Duvall Children's Fund.
Noon: Orders for our sweet potato/pecan pie, honored in Garden & Gun magazine, are swamping us. I worry about shipping them; we've had some accidents in the past where the slightly-fluid pie slops over when mishandled during shipment, and have had to make refunds. I remove them from the website.
1:00pm: Store manager Jim Summers is taken out of the front-of-the-house to help make the last of the fruitcakes. I learned to make these while in Cuba; they're full of fruit, nuts and lots of rum.
3:00pm: I get another 38 baked sweet potato pies into the freezer; UPS suggests shipping them frozen and sent Second Day Air with a freezer pack; we're doing it.
3:45pm: After taking it off the website, I start getting phone calls from people frantic to order the sweet potato/pecan pie: "I saw it in Garden & Gun! We want it!" A woman from Texas calls up to say the same thing. They're desperate for something they didn't know existed a week ago; it always amazes me that we can tell people to what to order and they do.
Thursday, December 1
3:00am: Ryan calls me from the bakery; she can't get the lock on the basement pantry door opened -- it's where our freezers are located. "Did you change the combination?" Nope. She earlier called head baker Kevin, who's off today and just in bed after bar darts. He charges in and can't open it, either. Over the phone, I suggest using the tire iron from his vehicle. "But don't kick in the doors!"
3:45am: I'm in my vehicle racing in to help, and I get pulled over for going 70 mph in a 45 mph zone. The trooper looks at me and says "Brian?" He's a regular at the bakery; I tell him my pastry girl is locked out: "No doughnuts!" He responds with four words: "Watch for deer. Go!"
4:00am: The tire iron works and Kevin's back home trying to get to sleep.
6:00am: We get the breakfast pastries out quickly; Ryan really hustled to catch up. No one out front was the wiser.
7:00am: Killer sunrise. It's one of the few benefits of being up so early; this one is so stellar that I post a photo on our Facebook page. I try to get something topical on there everyday; I've had a lot more luck with a bakery Facebook page then trying to tweet what's out of the oven.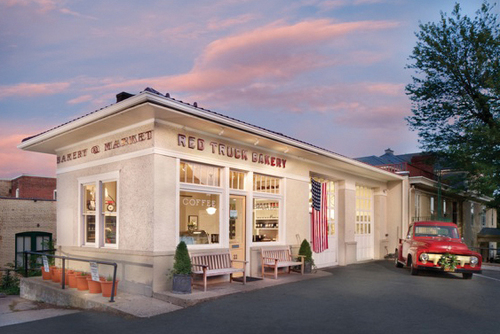 7:15am: Looking for pecans for our pies and fruitcakes and realize we're down to one case. I call Lentz Milling, our bakery supplier, and find our back-ordered pecans are sitting there waiting for us. They overnight them instead of saving them for next week's delivery. It sure helps to have a good relationship with the vendors (and the head of the company being my former next-door-neighbor doesn't hurt).
1:00pm: I leave the bakery for an appointment in Rappahannock County, fertile farmland to the west of us hugging the Blue Ridge Mountains and the Shenandoah Valley, and the home of the revered Inn at Little Washington. I'm looking for another location for the bakery and have early backing from some businessmen out there. We spend three hours going over Excel spreadsheets to see if it's feasible; things are looking pretty good.
5:00pm: Back to Warrenton and the ABC store for more booze for the cakes; Ryan will need it to get started in the morning. I get a call from a woman in Texas wanting to order 78 moonshine cakes for clients, and an email from Williams-Sonoma wanting to feature our products in their stores (since they tell us they need numerous samples in San Francisco in one day, I ask them to wait until January). I check email and find an invitation for Dwight and me to see a screening of the film "J. Edgar" (partially filmed in Warrenton near our bakery) at Robert Duvall's house in two weeks; we clear the calendar for that. Before I leave, I grab the leaf blower from my vehicle and clear the lot of leaves.
Friday, December 2
4:00am: Raccoons are everywhere this morning. I slam on the brakes and send a case of rum flying onto the floorboards -- nothing broken. I start worrying about getting everything done before the holidays. Orders are coming in like crazy and we're just three bakers. I make a list of everything that needs to be ordered: boxes, labels, packaging materials for the Christmas onslaught. Kevin's on top of kitchen ingredient needs; he's got the pantry and fridge organized. I hang our "Voted Best Bakery in Warrenton" banner across the front of the bakery's former service bay windows for the weekend. The town has sent me threatening letters about doing that; we're in a historic district and it's against the rules. But we're also in the middle of a crappy economy and I'm trying to run a business.
10:00am: Kevin, who's been here all night, is trying to get out of here for the weekend -- it's his family's annual pierogi-making party in New Jersey. It drives me crazy that he's leaving us alone on a Saturday with a Christmas parade outside our door, but I know he's able to get all his work, and most of mine, done before he splits.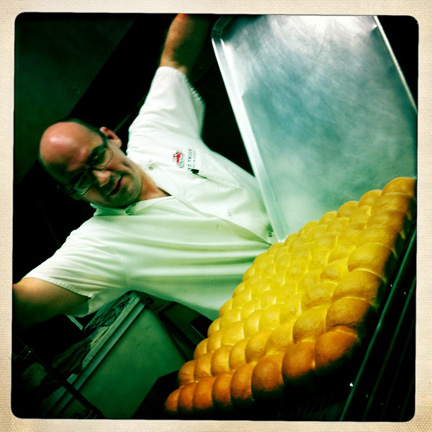 2:00pm: A mobile auto-wash and detailing company arrives to buff out the old red truck. Built in 1954, I bought the truck from Tommy Hilfiger, who kept it on his Connecticut farm. It was in great physical condition but has suffered sitting outside the bakery. Kids climb on it, families pose for photos, car doors nick the doors, and the intense sun does a number on the red paint. My wash guy brings it back to life with a beautiful deep wax and buff -- it's gorgeous and ready for Sunday's parade in Little Washington. He takes a photo to send back to his brother in Jamaica ("We had a old truck like it to tow the cows around"). I organize the next week's shipping and get pies made for the Saturday crowd. A woman calls to order 25 pies for a Realtor party.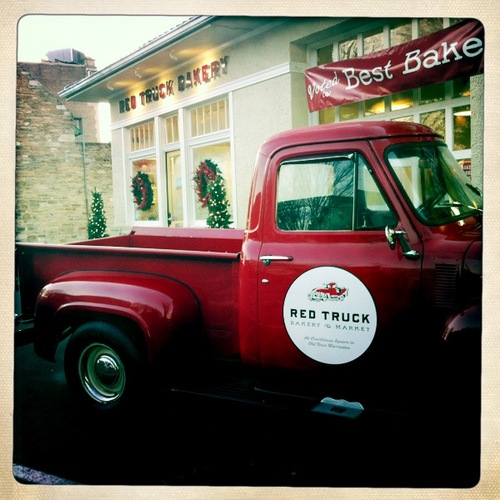 Saturday, December 3
1:00am: Parade day in Old Town Warrenton. We're not taking part in this one; no need, with the parade coming right past the bakery. I flip the lights and ovens on; I'm rarely the first one in but today need to get a jump-start with Kevin away. I organize the day's orders and start some pies and apple cakes; Ryan is in at 3am to start the pastries.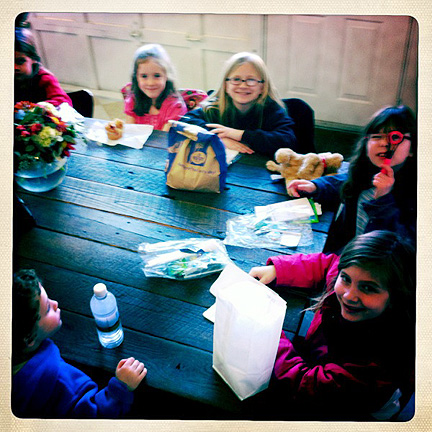 6:45am: Waiting for our dairy delivery; I called the day before to alert them to parade road closures -- if they weren't here by 6:30am, they couldn't get near the place. Street roadblocks go up 15 minutes before 7am, the designated hour, and THREE HOURS before the parade starts.
7:15am: A guy in his seventies drags into the bakery and complains about being forced to walk three blocks in the dark and cold due to roadblocks. We hear that all morning: the business district is sealed off from the town and no one can enter by vehicle. And those that do make the trek on foot are astounded to see blocks of available parking inside the area -- and none of them can believe it's for a parade that doesn't start until 10am. I fire off an email to the mayor, police chief and the town manager; I complained about it last year hoping they would rethink this. A police sergeant arrives and attempts to explain. The mayor says he'll look into it.
8:00am: Nicole arrives; I'm a bit stern with her about taking yesterday off without making granola. It's got a big loyal following and customers are not happy if they come in and don't find it. We always get a good amount of online orders, but one day last month they started coming in like crazy. A quick Google search turned up an interview with The Travel Channel's Andrew Zimmern saying he eats for breakfast "Greek yogurt with Red Truck Bakery granola, the best granola in North America." Nicole cranks out a huge batch.
10:00am: The parade kicks off; our parking lot is empty. Grand Marshall Willard Scott of the Today Show, a local resident, rides by first. I run a gift bag through the crowd and right up to his car, handing him a loaf of bread, an apple cake, our granola and some coffee. The crowd laughs and applauds; Willard looks at me, confused. "It's from our bakery" I say, gesturing over my shoulder to the building. "Oh, heh heh heh!"
2:00pm: Lots of traffic into the store but it's mostly hot chocolate and small stuff for kids. The restroom's a mess. A dead afternoon.
4:00pm: I race home to Arlington for a quick nap, then Dwight and I are off to the Kennedy Center to see Merce Cunningham's legacy dance tour; one bit of culture and time together. First, though, a stop at the ABC store for more booze for the cakes; a local whiskey distiller is handing out samples inside the store. Boy, that hit the spot.
Sunday, December 4
8:00am: I drive back in from Arlington. Today's the parade I'm excited about: "Christmas in Little Washington." I first stop to get four bushels of apples from Chester Hess, our local apple grower, then head to the bakery to fire up the old red truck. I haven't driven it in a year so I've been nervous; with the new battery it starts right up. With exhaust spewing, I muscle it to the gas station to fill the tank and inflate the tires. Jim's in the bakery prepping shipping orders for Monday.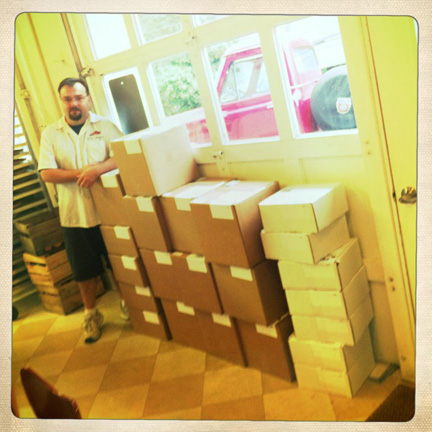 11:00am: Dwight arrives from Arlington; we drive the 20 miles to the village of Washington, Virginia and line up for the parade. Co-worker Janis Golden is there with six-year-old son Sean to pull the wagon with the bakery sign; our favorite customers Susan and Allen Taft are there for moral support and, with Dwight, will hand out Kevin's candy-cane brownies to the crowd. In the waiting area I greet Patrick O'Connell, the Inn at Little Washington's owner and big cheese, and he wonders when I'm opening the Red Truck Bakery in his town. "I'd love to be here," I tell him with a smile.
1:00pm: The parade starts up; Dwight's not happy that we're following a large camel. We all wind our way through the crowds of this little one-stop-sign village. Thanks to the Inn and the town's location in the Rappahannock farmland, it attracts the food-savvy crowd and DC folks who want a country weekend home. I'm amazed by the crowd's reaction: they adore the red truck and, it becomes obvious, the Red Truck.
2:00pm: The truck's back at the bakery and Dwight and I are heading out to the farmhouse. First, though, I send an email to tomorrow's White House open house sponsors to turn down the invitation for the tour and meetings. I left Washington, DC behind to concentrate on getting a rural bakery launched, and I need to focus on it as we head into our busiest season. There's no place I'd rather be.
See some of Red Truck Bakery's delectable treats below:
See more Food Informants below:
John T. Edge writes a monthly column, "United Tastes," for the New York Times. He is a contributing editor at Garden & Gun and a longtime columnist for the Oxford American. His magazine and newspaper work has been featured in eight editions of the Best Food Writing compilation. He has been nominated for five James Beard Foundation Awards, including two M.F.K. Fisher Distinguished Writing Awards. Edge holds a master's degree in Southern Studies from the University of Mississippi. He is director of the Southern Foodways Alliance, an institute of the Center for the Study of Southern Culture at the University of Mississippi, where he documents, studies and celebrates the diverse food cultures of the American South. Read John T. Edge's diary here.

Chris Jones and Richie Farina are chefs at Moto, a fine dining restaurant in Chicago that focuses on innovative and futuristic cuisine. They are both contestants on this season of "Top Chef: Texas." After attending Johnson and Wales University, Farina, the executive sous chef, started cooking in several Boston restaurants, and then joined Moto in 2008. In his spare time, he trains in mixed martial arts, a mixture of Ju Jistu wrestling and boxing. Jones, got his start cooking in his grandmother's kitchen. After working his way up the ladder in several restaurants, Jones is now the chef de cuisine of Moto. He lives with his wife and young daughter, Savannah. Read Chris and Richie's diary here.

Sean Henry is the owner of Houndstooth Coffee in Austin, Texas. Not until graduating from the University of Texas at Austin with a degree in Radio, Television and Film, did Sean even begin drinking coffee. While working at a local grocery store, Sean began to explore the coffee world region by region. After the initial broad strokes of regional coffees, he began working at local cafes, learning the art of being a barista. At Houndstooth, Sean aims to provide customers with the sophisticated taste and presentation of a perfect cup of Joe. He not only finds value in a well-crafted cup, but in the coffee drinking experience as well. Read Sean Henry's diary here.

Jean K. Reilly MW is the Wine Director for the Morrell Wine Bar and the Wine Buyer at Morrell Wine Co. She is a 10-year veteran of the wine business and has worked in numerous parts of the trade. In 2010, Jean became this country's 26th Master of Wine, only the sixth American woman to hold this prestigious title. Jean's interest in wine began as a hobby while pursuing a career in corporate finance at Bank of Tokyo-Mitsubishi and Deloitte & Touche. Abandoning the corporate track in 2001, Jean plunged into wine full-time, traveling the vineyards of Europe and the U.S. After a stint as sommelier at a small French restaurant in Manhattan, she worked as a wine instructor for several culinary schools, including Schiller International University in Switzerland. From 2007 to 2008, she also served as the Wine Consultant for Hilton Hotels. Read Jean Reilly's diary here.

Todd Coleman is the executive food editor of Saveur magazine, where for six years he's run the food side of things, including recipe selection, and overseeing the test kitchen. He's also an accomplished photographer who props, styles and photographs the majority of Saveur's covers, as well as frequently shooting and producing stories both in studio and on location. A graduate of the CIA, he's worked in restaurants, has been a private chef, edited at Everyday Food, produced shows for the Food Network, and has photographed cookbooks like The Japanese Grill by Tadashi Ono and Harris Salat, and the forthcoming Katie Workman book The Mom 100. He lives in Brooklyn, loves the Strand bookstore, hoards photo lenses and is a fiend for Indian food. Read Todd Coleman's diary here.

Chef Stephen Kalil joined PepsiCo and Frito-Lay in 2007 as their first ever corporate chef. In his role, he leads and inspires product development through the application of "Culinology", the blending of culinary arts and food science and technology. He is based at Frito-Lay headquarters in Plano, Texas. Read Stephen Kalil's diary here.

Food maintains a nearly constant presence in the life of 34-year-old competitive eating champion Timothy Janus, known to his fans as Eater X. Ranked #3 in the world by Major League Eating, Janus spends many of his weekends on the road, competing in contests across the country and around the world. A seven-year veteran of the sport, Janus has competed in over 100 events, owns seven world records, and yet still looks pretty good in a pair of pants. At night, Janus is a waiter at a pizza shop in Manhattan's East Village. His life, he says, has been a very good adventure. Read Eater X's diary here.

Geoff Bartakovics, 34, is the co-founder and CEO of Tasting Table, the free daily email publication all about food & drink culture. Before starting Tasting Table, Geoff was a business manager in asset-backed finance at UBS Investment Bank, where he coordinated business activities among the fixed income trading desk and the bank's middle- and back-office functions. Geoff was formerly a business analyst at Deloitte Consulting. He attended The University of Chicago, from which he graduated with honors in English. He was a Fulbright Scholar in comparative literature and philosophy in Berlin and Hamburg. He's an obsessive dinner party entertainer and a serious home cook. Read Geoff's diary here.

Elizabeth Laseter, an aspiring food journalist, is a recent graduate of Johns Hopkins University and lives in Washington, D.C. She received her diploma in Writing and Art History and is now pursuing a Culinary Arts Degree at L'Academie de Cuisine in Gaithersburg, Md. The one-year program includes six months of learning techniques in the classroom and six months at an externship in a D.C. fine dining restaurant. Elizabeth documents her food adventures through two blogs, The Baltimore Food Rag and The D.C. Food Rag. She decided to attend culinary school after interning at Baltimore magazine and working with the food editor. Read Elizabeth's full diary here.

Jane and Terry Levan operate a 20-acre pastured poultry farm outside of Lexington, Texas called Dewberry Hills Farm, after the dewberry vines that grow wild on their land. They raise antibiotic- and hormone-free meat chickens for sale. Their chickens mostly live outdoors. The Devans call themselves "omnivores with a conscience;" Jane won't eat any meat unless she personally knowns who raised it and how it was processed. Jane and Terry began farming in 2003, after reading Fast Food Nation and The Omnivore's Dilemma. The pair had always wanted to farm, but they didn't want to follow the industrial agricultural model. Jane and Terry built a processing building on-site and became state certified so they could sell their birds commercially in May 2008. Read Jane's diary here.

"James" is an Apple employee. He works at Caffe Macs, the on-site cafeteria of Apple's campus in Cupertino, Ca. Reminiscent of Google's epic food offerings, Caffe Macs is pretty much a corporate food court dream-come-true. Read James' diary here.

Brooklyn-based Aaron Lefkove used to work in book publishing and as a freelance writer. After his office re-located to New Jersey, Lefkove decided he didn't want to do the commute. Lefkove and his business partner, Andy Curtin, had the idea for a Cape Cod-style seafood joint for awhile. One day at a barbecue, they decided to commit to opening a restaurant, Littleneck, Brooklyn's first and only classic New England-style beach side seafood shack. Besides working in restaurants growing up, Lefkove had no experience as a restaurateur. He acknowledges that the process has been a major learning curve, but so far, there haven't been any obstacles they couldn't get around. At first, he thought opening up a clam shack would be easier than finding a new job but it turns it that it is actually "WAY WAY WAY harder." Despite this being the "hardest, most stressful, most frustrating, most time consuming, most ambitious thing" he has ever done, it isn't nearly as hard as he thought it would be. Plus, he says he loves working for himself, working toward something he has "always dreamed about," and building something really exciting. Read Aaron Lefkove's diary here.

Jonathan Stich, 29, is a third generation farmer from Burlington, Wisconsin. He grew weary of the corporate world, went traveling and decided to become a farmer. After reading about how heirloom tomato grower Tim Stark in Pennsylvania sells his products to New York restaurants, Stich made the decision to spend a night in restaurants in Milwaukee and Chicago asking if they'd be interesting in buying local produce. Read more about Jonathan Stich's week here.

Erika Nakamura and Amelia Posada are the owners, managers and butchers in chief of LA's artisanal butcher shop Lindy and Grundy. (Erika is Grundy and Amelia is Lindy.) The two, who also live together and are a couple, opened their store on Fairfax last spring (profiled on HuffPost Food). Lindy and Grundy has already been feted as one of the most best butchers in Southern California -- and quite possibly its most sustainable. Read about a week in the life of Erika Nakamura and Amelia Posada's here.

Recently, inspired by a meeting at the San Francisco Food Bank, chef Karl Wilder started the food stamp challenge: living and eating on a food stamp budget. What began as a one week project has turned into a two-month long commitment. Wilder calculated that a family has $1.33 to spend per meal, and decided that when using oil and seasonings, the cost would be $1.22. In total, he has less than $4 to spend on food per day. He monitors his nutrition and caloric intake on FitDay. You can read more about his daily experiences at on his blog, Fusion On The Fly. Read about a week in the life of Karl Wilder here.

Chris Cosentino is the executive chef of San Francisco's Incanto, an offal-heavy (not sure what offal is? Check out our Whole Animal Guide here) rustic Italian restaurant located in San Francisco. While encouraging patrons to try different cuts of meat, Cosentino also champions eating locally. He's previously cooked at such renowned restaurants as Kinkead's and Chez Panisse, and cites Jean-Louis Palladin as a big influence on his cooking style. He also co-owns Boccalone, which sells various cured meats and house-made salami. To learn more about Cosentino, check out his website, Offal Good. Read about a week in the life of Chris Cosentino here.

"Jane," 24, has been working for Trader Joe's since 2007, though in 2009 she left for over a year to go work for Whole Foods. She did not like it there and returned to TJ's. At Trader Joe's, every employee does a range of tasks, but Jane's speciality is dairy. Below is her explanation of the pros and cons of the job: I like working for Trader Joe's because they pay me well and offer great benefits. They also respect me as an employee and make me feel like I'm useful and needed and not just another part-time employee that can be replaced (which has been the case at other retail jobs I've had). Trader Joe's is really good at hiring great people and I'm lucky to have so many wonderful co-workers. I don't like working at Trader Joe's because the work can be strenuous on my back and wrists. Being on a register for several hours at a time is tiring and somewhat soul crushing due to ignorant people who feel the need to be condescending to me because I work at a grocery store. I also feel that the company is becoming more and more corporate as it grows and it is beginning to have an impact on the enjoyability of being a part-time "crew member." I also work in a very busy store which causes the managers to stress out a lot and I don't enjoy being surrounded by it. Read about a week in the life of a Trader Joe's employee here.

Chef Nate Appleman is the Culinary Manager at Chipotle. This involves a range of tasks including developing new menu items, opening ShopHouse (Chipotle's upcoming Asian fast-casual chain) and furthering Chipotle's commitment to sustainable sourcing. A graduate of the Culinary Institute of America, Appleman was previously executive chef and co-owner of San Francisco's super popular Italian restaurants A16 and SPQR. Appleman moved to New York in 2010 to open Pulino's. After leaving, Appleman took his current position at Chipotle. He has received a James Beard award for Rising Star Chef, been anointed Best New Chef by Food & Wine and is the champion of Food Network's Chopped All-Stars. Read about a week in the life of Nate Appleman here.

Freeganism is a lifestyle in which one employs "alternative strategies for living based on limited participation in the conventional economy and minimal consumption of resources." Gio Andollo is a writer, artist, musician and freegan. Andollo became a freegan when he realized that artists don't get paid much, but he didn't like the idea of working a "crappy, part-time job" to pay the bills. So he found another way. Andollo performs on the subway for about 20 hours a week, typically in two-hour intervals. He makes $10 to $50 per shift and has a love/hate relationship with busking. Andollo will buy food, but very rarely. The majority of his food comes from trash touring, or dumpster diving. He's become increasingly concerned with the abuses inherent in current economic systems: waste of resources, exploitation of people, degradation of the environment, calloused treatment of animals, commodification of time, labor, even war (thus human life in wholesale). In addition to busking part-time, he writes songs, blogs and books about these issues. Read about a week in the life of Gio Andollo here.

Captain Jason Joyce is an eighth-generation resident of Swan's Island, Maine. He is a Coast Guard Licensed Captain and a registered Maine Tidewater Guide. He has done lobster and fish research with the University of Maine, the University of Massachusetts, the Gulf of Maine Research Institute and the Lobster Institute. Joyce is currently doing a lot of work with the Penobscot East Resource Center, which works to secure a viable future for the fishing communities of eastern Maine. Each week, he records HD video of lobstering that he gives to restaurants to educate customers about sustainable lobster fisheries in Maine. Captain Joyce is married to his high school sweetheart and they have four children. Learn more about Captain Jason Joyce here. Read about a week in the life of Jason Joyce here.

Martin Kastner is a serviceware designer extraordinaire/jack-of-all-design-trades for Grant Achatz's Alinea, Next and The Aviary. Kastner creates custom pieces that work with Achatz's elaborate and intricate food. Born in the Czech Republic, Kastner trained as a blacksmith and received an MFA in sculpture. (His thesis was about air). He met his American wife in Prague and moved to the US in 1998. In 2003, Kastner received an unexpected email from Grant Achatz, who had emailed a host of designers. Kastner was the only one to respond. They've partnered not only on serviceware, but also on web design, video and the Alinea cookbook. Kastner's other clients include L20 (an upscale, seafood-focused Chicago restaurant), Le Bernardin (Eric Ripert's homage to seafood) and Empellon (Alex Stupak's new Mexican restaurant in New York). Read about a week in the life of Martin Kastner here.