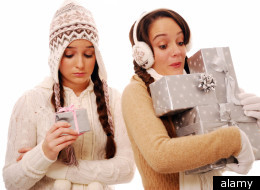 For many, the holidays are about showing how much you care, but some family members, friends and colleagues have a peculiar way of showing it.
When it comes to gift-giving, it's certainly the thought that counts, but when we receive things like onesies or mismatched slippers, we have to wonder, 'what were they thinking?'
The right book, on the other hand, is always a thoughtful present.
So we asked our Facebook followers about the worst gifts they've ever received, and humbly offer suggestions for similarly themed books they could have been given instead.
After all, as the trending Twitter topic states, #BooksAreBetter.
Instead of toilet seat covers, we recommend this collection of beautiful scenery seen from the vantage point of bathroom stalls or windows. It's sure to make for a better bathroom accessory.

"Nice try, but it's still a box of rocks." Instead, how about a relaxing, meditative book? This Nobel Prize-winning poet's work concerns itself with themes of nature, and is sure to be more intellectually stimulating than a pile of rocks. The Dalai Lama's "The Art of Happiness" is another contender.

A music-lover is more prone to enjoy a book about music than 1/4 of a new album. "High Fidelity" by Nick Hornby is another music-themed classic.

"They were two different sizes - both wrong - with pointed up toes and scratchy material." Instead, we suggest a mismatched pair of books from different book series, such as "The Prisoner of Azkaban" and "The Return of the King," or "The Girl Who Kicked the Hornet's Nest" and "New Moon."

This beloved Victorian writer was also an interior designer, so instead of whatever the heck furniture clamps are, we suggest her trusted advice on aesthetics.

"My four-year-old daughter received a bath towel and washcloth on one of her birthdays. Yeah. How exciting for her." If she enjoys swimming and/or bathing as much as this gift giver assumed she does, then we suggest this classic tale of a waterlogged kid.

They should have thought about books with famously be-speckled protagonists, such as Meg Murray from Madeleine L'Engle's classic. Other four-eyed characters include Piggy from "Lord of the Flies," TJ Eckleberg from "The Great Gatsby," and, of course, Harry Potter.