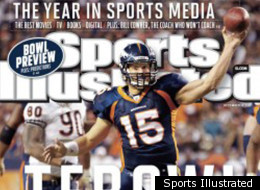 At a newsstand near you, it's Tebowmania. Again.
For the second time in four weeks, the Denver Broncos' polarizing quarterback made the cover of Sports Illustrated. According to the magazine's website, it's the eighth time the fourth quarter marvel has made the SI cover (although it's hard to tell why he is credited with this one).
Obviously, he has ways to go to reach Michael Jordan's record of 49 covers, but twice in four weeks is quite remarkable. Even if the Broncos' winning streak is snapped this coming weekend by Tom Brady's New England Patriots, the Tebow craze does not seem to be abating. After all, Denver's last defeat hardly dimmed the spotlight, partly due to the fact that Lions linebacker Stephen Tulloch mocked the former Gators quarterback by "Tebowing" after a sack.
Since then, Tebowing has taken the world by storm. Earlier this week, it was even officially recognized as a word.
When skiing starletLindsey Vonn was caught "Tebowing" following a win at the World Cup Super-G last week, conversation shifted from his on-field pursuits to his off-the-field relationships. In Denver, speculation of Tebow possibly dating Vonn amped up after she struck his pose. However, Vonn later shot down the rumors and said that she merely admires what he is doing.
Scroll down to check out the other Tebow Sports illustrated Covers.