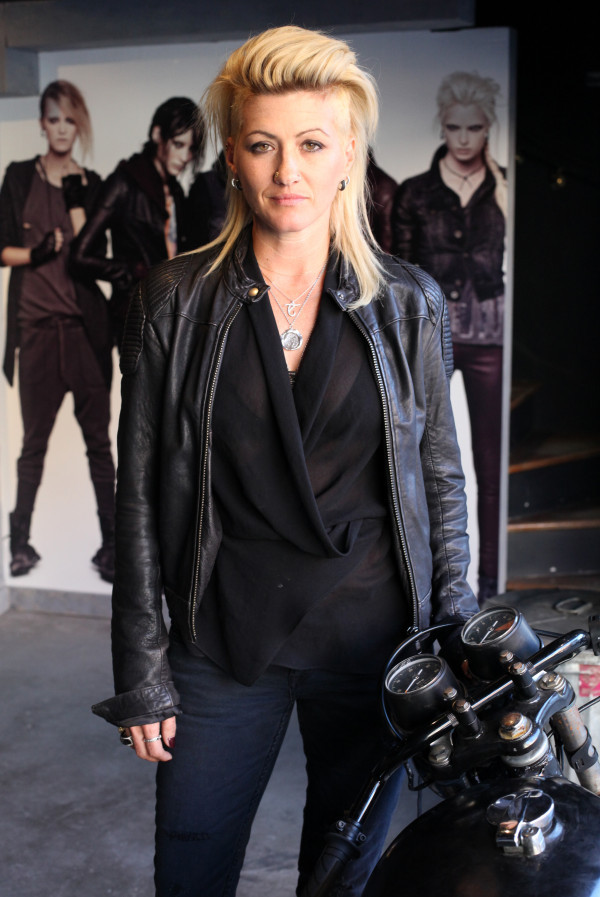 Trish Summerville at H&M's pop up shopPhotos: Bobby Doherty/AOL
Stieg Larsson's "The Girl With The Dragon Tattoo," which was already made into a Swedish film in 2009, will become a blockbuster hit internationally as of December 21. As the protagonist Lisbeth Salander, played by Rooney Mara, becomes a style icon, the film's costume designer, Trish Summerville, has found herself in the fashion spotlight. While Summerville has designed costumes in the past for everyone from Christina Aguilera in "Stripped" to Angelina Jolie in "Girl Interrupted," this is her first time designing full collection, let alone one for a mass retailer based on fiction. Now, the edgy blond stylist has found herself appearing in ads for H&M: "Well, do you notice that I'm sideways?" Summerville says modestly, "It's just awful. I'm so short compared to the girls. Two were extremely tall, and first I had them in the platforms, but I was like, 'No!'"
We checked in with the designer at H&M's new pop up shop in New York's Meatpacking district on Tuesday to get Summerville's take on Rooney Mara's style evolution, Swedish street culture and her opinion on whether or not the collaboration is unisex.
How did you create the costumes for the film?
We purchased a lot of things, we built some others and then we shopped in Sweden, as well, because there's tons of resale shops there. I kept asking everyone, 'Where's the thrift store?' and they're like, 'What are you talking about?' So I found out in Sweden, they call them resale shops. There are certain areas, like Östermalm, that's quite a fancy Beverly Hills-type area, where you can go in those shops and find great pieces that are really inexpensive. I really stood out at the mall, they were like, 'Why are you in our neighborhood?' And I'm like, 'Why is everybody here so quiet?' But, they had great shopping because they turn over fashion quite quickly, because Swedes don't have a lot of room in their closets. It's hard to buy things for certain films from vintage stores, because Rooney's character has somewhere between 45-50 wardrobe changes, so you need to have multiples of each item. So you can't have one of a piece, if it were lost or something happened to it...
Was Swedish street style a big inspiration for the film?
Definitely. When I first started on the film, I did a lot of research on the squatter kids there and what the punk music scene was like before I even went to Sweden. Also, I researched the outskirts, because there's much more to the country. It's traditional and blue collar and important to include all the different levels of what the Swedish culture is.
There is clearly goth and punk inspiration in the film's clothes and your designs for H&M, how is Salander's style somewhat separate from those existing styles?
I think what made our costumes quite interesting with her and kept her from being extreme goth or extreme punk was just aging her clothes, muting the tones and not having any flashy studs. Even the studding that we used, we tarnished everything down. She's very worn and always layering. I think what made it slightly different was how much aging and distressing we put into her items. We just kind of took bits and pieces and started doing fittings on what worked on Rooney.
What was the H&M collaboration like?
I really wanted to be hands on. It was really important for me to be there when they fit models, to look at all the aging of the pieces and make sure that it was very true to the Salander character. For us, the fit with H&M was great because we have H&M in the movie. In the second book, Salander even shops at H&M when she acquires bit more money. When you're in Sweden, you realize that H&M is a household name. The thing that I think is so beautiful about the Swedes is that if you can give them the option like, 'Here's a Swedish designer and then here's an Italian designer, which would you prefer?' They always go for the Swedish designer. That's why their economy is really good, because they support the Swedish industry.
How did Rooney Mara's personal style impact the character? Do you think that the costumes have changed her style at all?
I think she's taken bits of Salandar into her personal style now. When we first met, Rooney's style was extremely feminine and very girly. She has a great, classic style. I think she has a very good eye for things, and such a classic face that even with the haircut, you see her. She just has these amazing cheekbones, such a beautiful long neck and dainty hands. I think, now, watching how she dresses, she's kind of taken bits and pieces of Salander's essence and worked it into her own look. I think that's what we want to do with the collection for H&M, I want people to come in and find a piece or two that they can make it their own. I don't want anybody just to think that they should come in and look like Salander head to toe, it's so much more about mixing high-low, putting it with your own personal things and giving it a feminine touch.
Do these pieces reflect your personal style?
I definitely would wear everything that's in here. I'm not a miniskirt girl, so I would have a really textured tight and high boots or short tennis shoe with that piece. But I was just really pleased with everything in here. My mom, who is really quite conservative, was like, 'I would wear the coat. And I'd wear the cardigans. And if I could fit into those army pants, I'd wear the army pants.' So it's really nice to see all different kinds of people in the clothes. Even the boys are like, 'I want the drop-crotch pants,' 'How big does the leather coat cut?'
Where do you like to shop for yourself?
I don't really enjoy shopping for myself – which is fairly ironic because I shop for a living. I don't like to try things on, so I generally – I don't shop much. I won't shop for ever, but I'm also somebody who will invest in specific pieces. Like I have some boots that I've had for easily 15 years that I still wear. It's just about taking really good care of them. I'm not a label whore at all; I will shop anywhere. I love thrift shopping like at London's Portobello Market, you find some of the most interesting things there. I like vintage shopping, going into mom and pop boutiques and then, of course, high-end stuff, as well. I have an appreciation at every level. I can appreciate a really crazy, sick Christmas sweater, although I just don't personally want to wear one!
SUBSCRIBE AND FOLLOW
Get top stories and blog posts emailed to me each day. Newsletters may offer personalized content or advertisements.
Learn more