Urlies 2011: The Best New Single-Topic Blog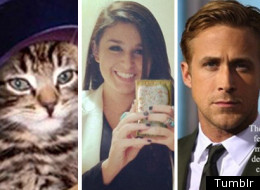 Every December Urlesque celebrates the best web culture trends of the year with awards called the Urlies. This year, along with our partners at HuffPost Comedy, we decided that instead of choosing the winners in each category on our own, we would do things a little differently.
We're going to let you, our readers, choose who wins the Urlies for Best Meme, Best Viral Video, Best New Single-Topic Blog and Best Cute Thing for 2011. It's an unprecedented amount of power, but we have faith that we're leaving the task in good hands.
Today we're presenting our picks in the Best New Single-Topic Blog category, which includes all of the Tumblrs and high-concept websites you couldn't stop forwarding to your friends this year.
There are some tough contenders in this category, so be sure to rate the videos and let us know if we missed anything in the comments!
Best New Single Topic Blog 2011
Sure, 2011 is the year that brought us planking, horsemaning, et al, but Tebowing -- the pose inspired by NFL quarterback Tim Tebow -- got its own blog.

Lots of Ryan Gosling memes cropped up this year, but no blog was so close to the Internet's collective heart and imagination as Feminist Ryan Gosling.

With each entry composed of a simple hand-written letter held up to a webcam, We Are the 99 Percent was the blog that helped make Occupy Wall Street go viral.

Finally, a blog that cuts out the middle man and just gives us the cute animal videos we need and crave.

The project that asked people to hold a photograph up in front of the place where it had been taken captured people's imaginations and hearts in 2011.

Such a simple concept, and yet so much material.

The blog that dared to ask us whether we were looking at a hipster or just someone wearing a costume.

With a little simple Photoshopping, this blog changed the way we'll look at noses forever.

The blog that dared to take a bunch of people's self-pics in mirrors and edit in Pop Tarts where the cameras used to be.

So many female celebrities' faces were improved this year by morphing into Steve Buscemi's face.

The cover art from all of your favorite albums was kittenized and improved upon in 2011.