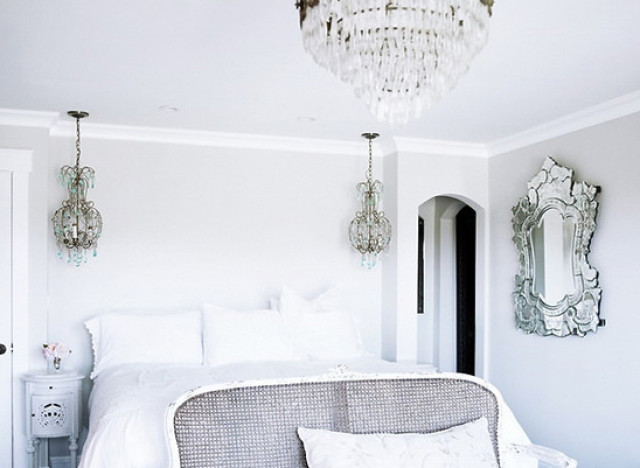 The holidays are finally upon us and hopefully you've got all your Christmas decorations up and all your entertaining plans in place -- we'll admit we still have a few things on our to-do list...like cleaning. And on that note, if you're hosting guests this year, it's time to get the guest room ready for them, their luggage and everything else they'll have in tow. While setting up the room for your guests might seem stressful, it doesn't have to be that way. Keep these following points in mind and you'll be panic-free and ready to host your visitors comfortably and happily when they arrive.
Make room in the guest room. If you use your guest room as a storage space for clothes, books, shopping bags and other non-everyday items for 360 days out of the year, then this is the one time you'll have to clear it out. Clear out any closet space so that your guests will feel at home during their visit and not like college students living out of their suitcases. You can give away or donate old clothing and books, take out old boxes, etc. This is the best time to do some pre-New Year de-cluttering.
Do some furnishing. It's not the be all end all if you don't have these furnishings in your guest room, but having them will really make your guests' stay at your home that much more pleasant. You can even use similar pieces from other rooms in your home for the duration of the your guests' visit.
- A dresser or a small chest -- it gives your guests the option of stowing away their clothes and, yes, gifts for you. Don't ruin the surprise for you and your family.
- A nightstand -- this is a great place for them to put any keys and rest glasses or books.
- Lamps -- guest rooms always seem to have such dim lighting, so the ideal would be to have a pair of lamps on nightstands flanking the bed. If you have a floor lamp, make sure you have a new bulb and pull it slightly away from the corner to let the light circulate.
Change up the bedding. Even if you just changed the bed linens in the guest room not too long ago, slip on some fresh sheets for your guests. There's nothing more comforting than the smell of clean linens for guests when they first walk into the guest room.
Clean the floors. Sweep and wipe down wood floors. Vacuum carpet. There's nothing worse as a guest than finding strands of hair or balls of dust in the room you're staying in.
Put in a candle. A scented candle is best since the aroma will fill the room, but a normal thick cylinder candle will equally help set a nice atmosphere just fine.
No guest room? No problem. Here's how to turn a family member's bedroom into a guest room.
SUBSCRIBE TO & FOLLOW LIFESTYLE
HuffPost Lifestyle is a daily newsletter that will make you happier and healthier — one email at a time. Learn more