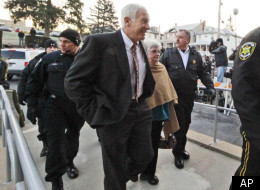 According to
The Merriam-Webster Dictionary
, "intriguing" is defined as
engaging the interest to a marked degree; fascinating
Based on this definition, People magazine has named former Penn State defensive coordinator Jerry Sandusky -- who faces more than 50 counts of serial sexual abuse against young boys -- to its list of the 25 most "intriguing" people of 2011. Sandusky joins Gabrielle Giffords, Kate Middleton and Charlie Sheen on the list.
Certainly the scandal at Penn State has captured the attention of the nation, with each public statement by Sandusky or new development in the case, garnering widespread media coverage. Earlier this week, Sandusky waived his preliminary hearing, an action that his lawyer Joseph Amendola called a "tactical measure."
Amendola spoke to reporters at great length after the three-minute hearing, saying that there have been no plea negotiations and that "this is the fight of Jerry Sandusky's life."