Texas Gov. Rick Perry has just received the kind of award nobody wants to get.
In the January edition of Texas Monthly magazine, it gives out the "Bum Steer of the Year" award to the person guilty of the "biggest screw-up, gaffe, fumble, stumble, train wreck, or humiliation." This year, the publication has decided that there is no person more deserving than the Lone Star state's governor, Rick Perry.
It caps off a rough couple months for Perry, during which he saw a rapid surge to the top of the GOP presidential primary polls, followed by a quick descent, precipitated primarily by self-inflicted wounds exacted under the klieg lights.
The past few months haven't been easy for Texas Monthly either, the editor writes in a description of the magazine's somewhat painful decision to bestow the badge of humiliation on the holder of the state's top office. The editorial board made steps to resist the urge to shame Perry with the award, but following his excruciatingly extended mental lapse at a debate in November, in which he proved incapable of remembering the third and final federal agency he had promised to eliminate just seconds before, it was given no choice. Perry's defeated "oops" sealed his "Bum Steer" fate -- and the magazine's January cover: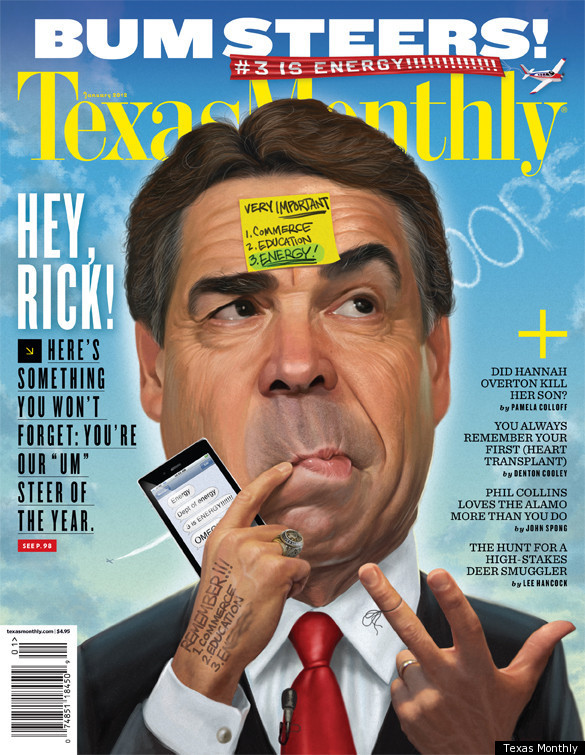 But Perry hasn't hung it up yet. He'll attend a debate Thursday night in Iowa where he'll take one last crack at convincing voters in the upcoming January 3 caucuses that he's the man to go head-to-head with President Obama in November.
As most readers know, every January TEXAS MONTHLY picks a Bum Steer of the Year, an honor conferred on whatever individual we estimate has been responsible for the biggest screw-up, gaffe, fumble, stumble, train wreck, or humiliation of the past twelve months. This year, as the above cover (available on newsstands next week) makes pretty darn clear, our Bum Steer of the Year is Governor Rick Perry. Because this is not an award we relished bestowing, we are moved to offer an account of our decision to do so.

No one wants to give the governor a Bum Steer. No one wants to poke fun at the elected representative of 25 million Texans. And in fact, when Perry launched his presidential campaign four and a half months ago, we felt compelled to defend him (a little) from the slings and arrows of a national press corps incapable of seeing a boot-wearing Texas governor as anything other than George W. Bush II. We'd had our differences with Perry, about whom senior executive editor Paul Burka wrote, back in May: "He excels at consolidating and maintaining power but not at using it to move Texas forward." But now that the Texas-mocking Yankee press was approaching, what Texan did not want to circle the wagons?

"We have endured a disproportionate amount of bad writing about our state from journalists who don't know very much about the place, and I for one can't bear to suffer through another campaign of it," Paul wrote, in an August column addressed to the hordes of journalists soon to be clogging the taxi stand at the Austin airport. "I am writing you this note in the hope that it will help you avoid the political and sociological cliches that Texas is subjected to every time one of our politicians seeks the national stage."

Among other things, Paul's column counseled these reporters not to confuse Perry with Bush and to accept that the governor was "cannier than you think he is." The next month, our account of his undefeated electoral history carried the headline "The Great Campaigner." The month after that, we explained his rugged, individualistic "frontier style" and traced the roots of his political persona to Andrew Jackson, the original "Washington outsider."

But already the worm had begun to turn. By November, Perry had completed the first several stages of decline, having devolved from a fantasy GOP savior ("He'll unite the tea party and the chamber of commerce!") to a real-life candidate with real-life challenges ("He'll be fine as long as he can explain his immigration stance!") to a mysteriously awful public speaker ("Is his back bothering him? Is he tired? Doing too much fund-raising?"). Still, as our Bum Steer deadlines approached, we were not moved to confer the lowest honor on our highest office. True, a late October survey of political insiders by the Texas Tribune found that 57 percent of them thought Perry's struggling campaign had hurt the state's image, but we remained firm. The governor had not earned the Bum Steer in our book, and we were torn, like many Texans, between embarrassment at Perry's poor performance and contempt for the way the national media seemed to relish the opportunity to ridicule our state.

Then came that peculiar speech in New Hampshire, the one where he rambled about tomcats and buried gold, deployed more hand gestures and facial expressions than Ron Washington during a two-out rally, and finally finished by embracing a bottle of maple syrup.

Again the media piled on. But were we swayed? Nope. We entered the production cycle for the January issue unconvinced that the governor, for all his stumbles, deserved to be our Bum Steer of the Year. Such things are not to be taken lightly. Only once before had the magazine awarded a governor this individual dishonor, when Dolph Briscoe took the 1976 prize. Though the prospect of Perry on the cover (perhaps riding a steer into the sunset, dragging a dead coyote) was now being discussed around the office with increasing regularity, we remained resolute in our reservations; he had still not done enough.

The end came swiftly, in a matter of seconds. Fifty-three of them, to be exact: the time it took the governor to go from trying in vain to name the third agency of government he would shutter as president to giving up and muttering -- in a phrase that will surely go down, should his campaign expire, as its perfect epitaph -- "Oops." In that moment all our resistance melted away, and we rushed, shaking our heads in disbelief, into the arms of our unquestionable 2012 Bum Steer of the Year. We didn't want to, but we had to
FOLLOW HUFFPOST