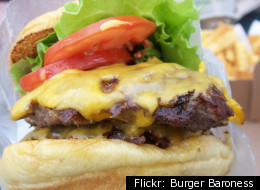 It's pretty fascinating how much can change in the world of burgers in a single year. Conversations and articles about the "best burger" are omnipresent, and pretty much everyone has an opinion on what defines the perfect hamburger. It's been another banner years for burgers, from fast food chains revamping old recipes to upstart chains gaining traction. Couldn't keep it all straight? Click through the slideshow below to catch up on this year's burger news.
Last month, Forbes declared that Smashburger was "America's Most Promising Company." The rapidly-growing fast food chain isn't just expanding in the U.S., the company is opening outposts in three countries in the Persian Gulf: Kuwait, Bahrain and Saudi Arabia. The concept of Smashburger is simple, yet smart. You can choose from various items on the menu, or you can build-your-own burger with a variety of sauces, cheese, etc. If you haven't yet heard much about Smashburger, it sounds like you will be hearing more and more in the future.

Shake Shack started as a small burger joint (with the backing of Danny Meyer's Union Square Hospitality Group, a major New York restaurant group). In the past year, it has expanded to D.C., Miami and the Middle East, as well as other locations in the New York metro area. The burger is tasty, juicy and well-priced -- we're not wondering if it is expanding to more cities, but rather when. With his expansion strategy of starting out slow and then picking up speed, Danny Meyer has learned that he has a winning concept on his hands. Separately, Michelle Obama chowed down on a Shackburger this year, which started a weird pseudo-scandal if we've ever seen one -- that burger is delicious.

Umami Burger is a Los Angeles burger chain, that along with Father's Office, has become a hot burger spot. Earlier this year, Umami opened its first San Francisco outpost and plans to make an East Coast debut are on the horizon as well. Dana Goodyear in the New Yorker recently unwrapped the success of the recipe: Umami burgers, in my experience, are greasy, juicy, and fat, with a deep, pickley tang; they stuff you, and make you want more.

In-N-Out probably has the biggest cult following of any burger chain -- and it is no doubt partially due to its locations only in the western part of the U.S. The many off-menu ordering possibilities also contribute to the chain's lure. This year, history was made. In-N-Out Burger expanded to Texas. Predictably, there was pandemonium...and tears. It takes some real burger love to make that happen.

In 2011, Burger King got tired of living in McDonald's shadow. The chain de-throned the iconic BK mascot, The King. In place of the creepy King, Burger King focused its ads on a revamped focus on the food itself. It relaunched its dessert menu, changed the french fry recipe and introduced oatmeal to the breakfast menu. In the burger arena, Burger King launched the California Whopper, which is basically a burger with some avocado. The company also launched the BK Chef's Choice, which is another normal-ish sounding burger, with the addition of ground chuck and bacon. Are all these changes enough to make Burger King the next McDonald's? It more feels like Burger King is catching up from being behind, rather than actually doing anything so different.

In Zagat's annual fast food survey, Five Guys topped the list for favorite fast food for large chains and for best burger. In another poll, this time by MarketForce, Five Guys was deemed the favorite fast food chain. So what is it about this burger that makes everyone go crazy for it? Well, for one, it's made to order. It's a nice classic burger, made well. And sometimes, that's exactly what you want.

Burger King isn't the only chain revamping its hamburgers. This year, Wendy's launched Dave's Hot 'N Juicy hamburger after two years of development. The burger features extra cheese, a thicker beef patty and a buttered bun. Wendy's is ready to get aggressive against it competitors. But instead of going after McDonald's, Wendy's hopes to crack into the fast casual arena, and compete against restaurants like Five Guys and Smashburger. Its strategy may be working -- Wendy's may soon surpass Burger King in terms of total revenue.

The headlines write themselves -- Beefcake Makes Beef. Why shouldn't a man formerly known as Marky Mark, his New Kids On The Block brother, and his other brother -- who happens to be a chef -- open a burger joint? We couldn't think of a good reason not to either. If the burgers are good enough for the king of Good Vibrations, they are good enough for us. So if you find yourself in Hingham, Ma., maybe a stop at Wahlburgers is in order. Warning: the lines sound long, but the food sounds decent-ish, according to Yelp.

The New York Times recently questioned, "can science create a better burger?" Modernist Cuisine's Nathan Myrhvold's thinks so. His perfect burger consists of the following: He poaches ground beef patties sous vide for half an hour, then plunges them in -321 °F liquid nitrogen for 30 seconds, freezing the very outer layer. Finally, he deep-fries the burgers, ensuring a crispy shell without a gray interior. For the most part, this creation is unrealistic to reproduce for most people. Nevertheless it is an interesting experiment that has moved forward our understanding of the burger and what can make it great.

"Hamburgerologist" Josh Ozersky penned a three-part series about the past, present and future of the hamburger earlier this year for Eater. In his dark prediction for the future, he imagined a world where hamburgers will get bigger with worse quality meat and grass-fed patties will be a thing of the past. He portends at the close of his post, " As long as Americans have a love of hamburgers in their hearts, our national food will continue to grow and develop - for good or for evil." With that in mind, we are both nervous and excited for next year's burger developments.