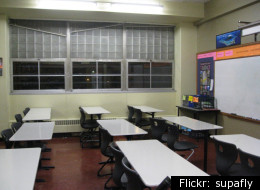 After announcing plans to "turnaround" a record number of struggling schools, Chicago Public Schools released a $660 million capital budget plan that reserves nearly $125 million for structural improvements to facilities on the chopping block.
That sum will be divided among 11 schools facing turnaround, closure or consolidation, funding additions, interior renovations and facilities upgrades even at sites phasing out their student bodies, and those with uncertain futures, the Chicago News Cooperative reports.
CPS Chief Operating Officer Tim Cawley told the Chicago Tribune that the investments were an encouraging sign about the school board's future plans for these schools, although cosmetic improvements have frequently preceded handovers to charter programs in the past.
"We believe that we get more bang for our capital investment buck when we couple it with a program change in the building," Cawley told the Tribune. "When we turn a school around, when we add a new gifted program or a language program...we believe there's a synergy that communicates to students and families that it's a new day, that there's new things happening at the school."
Chicago Vocational Career Academy High School, whose curriculum has been praised by CPS CEO Jean-Claude Brizard but which faces a turnaround that will flush out the its entire current staff, will receive the most rehab funding with $75 million directed towards roof replacement, renovations to the dining area and other improvements, according to the Chicago Sun-Times. Crane High School, which is being phased out and replaced by a charter program, will be allotted $7.3 million for improvements as the current student body empties out.
Nearly $26 million will be allocated among the six elementary schools whose turnarounds are being overseen by the Academy for Urban School Leadership, the Sun-Times reports.
The emphasis on cosmetic investments in schools failing academically has upset some education advocates.
"I think it's deliberately starving these schools so that they become weaker and weaker before they're killed off," Julie Woestehoff, executive director of Parents United for Responsible Education who supported investments in school programming before closures were announced, told the Tribune.