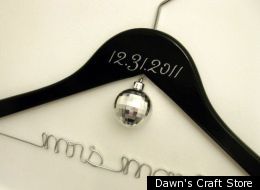 New Year's Eve has to be one the worst social planning nights of the year. Should you go to your cousin's wine tasting? Your ex-roommate's bash? Or maybe your in-laws' quiet dinner at home?
For those who plan to tie the knot on Dec. 31st, however, the panicked, last minute, "What are we gonna do?!" guesswork is eliminated.
To help those clever couples put the finishing touches on their New Year's Eve weddings, we've collected the best last-day-of-the-year wedding bits and baubles from Etsy's wealth of handmade goods. Click through the slideshow below to see our picks.
Personalized bridal hanger for a New Year's Eve wedding. $35 from Dawn's Craft Store.

Rhinestone bow tie for the festive New Year's Eve groom. $65 from Haute Under The Collar.

Photo props for a New Year's Eve soiree. $32 from Little Retreats.

"Hello, 2012" glitter cupcake topper. $19 from Potter and Butler.

New Year's Eve wedding invitation suite. $50 from Ginger P Designs.