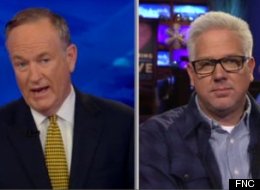 Bill O'Reilly and Glenn Beck had a tense argument about Newt Gingrich on O'Reilly's Thursday show.
Beck has been a fierce critic of Gingrich, currently one of the frontrunners in the Republican primary. He has said that the former House speaker is such a progressive that any supporters of his who oppose President Obama must be doing so because of Obama's race. On Thursday, O'Reilly made clear that he treats such arguments with a large degree of skepticism.
He let Beck detail some of his objections to Gingrich, but when Beck mentioned Gingrich's love of Teddy Roosevelt (a reviled figure over at the GBTV studios), O'Reilly cut in.
"You know that Teddy Roosevelt's Progressive Party is a lot different than the Progressive Party today," he said. Beck reared up in defense. "I'm not going to argue with you about Abraham Lincoln," he said. "Please don't argue with me about the Progressive Party."
The two continued sparring, with O'Reilly saying that Gingrich always appeared quite conservative to him during his Fox News years. "He voted for the Department of Education!" Beck cried. "Beck, Beck, back then the Department of Education wasn't what it is now!" O'Reilly said.
The chilliest moment came when Beck brought up his tough radio interview with Gingrich, which he said was evidence of the candidate's love of "big government."
"That's your interpretation!" O'Reilly shot back. "He didn't say it. Come on, Beck."
At the end of the interview, Beck was randomly handed a baby. He extolled the virtues of the baby, and then the chat was finished. It was odd!
WATCH:
Conservatives on Newt Gingrich:
Conservative Pundits On Newt Gingrich
In a December 7 column, conservative pundit Ann Coulter wrote about Newt's history: Gingrich has spent his years since [his first year as Speaker of the House] having an affair, divorcing his second wife and making money by being the consummate Washington insider -- trading on access, taking $1.6 million from Freddie Mac and palling around with Hillary Clinton, John Kerry, Nancy Pelosi and Al Sharpton. Even Chuck Schumer wouldn't be seen doing a joint event with Al Sharpton! But Newt seeks approval from strange places. Newt Gingrich is the "anti-Establishment" candidate only if "the Establishment" is defined as "anyone who remembers what happened the day before yesterday."

On December 10, Wall Street Journal columnist Peggy Noonan wrote about Gingrich's rapid rise in the Republican primary. "He is a human hand grenade who walks around with his hand on the pin, saying, 'Watch this!'," she wrote.

According to The Hill, one Republican legislator who served with Gingrich in the House of Representatives said that "Newt's hand is always six inches from the self-destruct button."

Conservative columnist George Will shared some choice words about Newt in a December 2 Washington Post column. "There is almost artistic vulgarity in Gingrich's unrepented role as a hired larynx for interests profiting from such government follies as ethanol and cheap mortgages," Will wrote.

In his New York Times column, David Brooks outlined why Newt "seems to have walked straight out of the 1960s." Gingrich, Brooks wrote, "has every negative character trait that conservatives associate with '60s excess: narcissism, self-righteousness, self-indulgence and intemperance. He just has those traits in Republican form."

Yuval Levin wrote about Gingrich's temperament on the National Review website: Gingrich has what you might call a revolutionary disposition: He has great intensity and energy. His mind is drawn to stark and diametrical distinctions; he expects change to occur through cataclysmic clashes and so seems always to be seeking after ways to accelerate the contradictions. This allows him to much more easily thunder over his own inconsistencies and past changes of mind. But he has no discipline whatsoever, can be almost unbelievably erratic and unfocused, and is unironically conceited.

In his December 8 Washington Post column, Michael Gerson wrote: And this indiscipline was not an aberration. It indicated an impulsiveness found elsewhere in his career. Gingrich has a history of making serious charges that turn out to be self-indictments -- witness his recent attack on congressional advocates for Freddie Mac, despite having been one of its well-paid consultants. Gingrich's language is often intemperate. He is seized by temporary enthusiasms. He combines absolute certainty in any given moment with continual reinvention over time.These traits are suited to a provocateur, an author, a commentator, a consultant. They are not the normal makings of a chief executive.

In a column comparing Mitt Romney and Gingrich, the Washington Post's Charles Krauthammer said that "Gingrich has a self-regard so immense that it rivals Obama's -- but, unlike Obama's, is untamed by self-discipline."

MSNBC host Joe Scarborough had kind words for Gingrich Jan. 19. Reacting to polls showing Gingrich gaining on Romney in South Carolina, Scarborough joked, "There are only going to be three species that survive the nuclear holocaust: cockroaches, Cher and Newt Gingrich. He keeps coming back!"