Pets like these have been receiving increased attention from infectious disease experts. As cute and innocent as the animals may look, many are the namesakes of unfriendly things like bird flu, monkeypox and rat bite fever. And, as experts warn, it is common for reptiles to carry potentially deadly pathogens, including salmonella.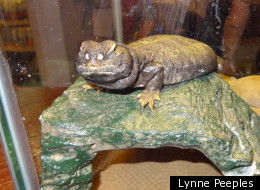 Xama's gaze followed Dr. Pilny and me as we walked through the lobby, past a series of offices, labs, an operating table, a pair of sleeping ferrets (used for blood transfusions) and then into a large room -- this one guarded by Monico, a blue-fronted Amazon parrot. Glass and metal cages surrounded us, each housing a scaly, feathered or furry creature.
Researchers who subscribe to this One Health multidisciplinary perspective are attempting to address the global pet trade issue through improved surveillance of animals in the wild, tighter regulations at the borders and greater collaboration with the pet trade industry, as well as educating consumers about the potential risks of animal-borne disease.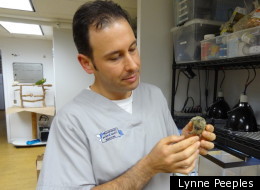 "I always talk to new owners," Dr. Pilny told The Huffington Post, as he held up a 7-week-old Greek tortoise in the palm of his hand. "There's realistic concern about zoonotic disease."
He personally breeds nearly all of the birds he sells, along with many of the reptiles, in a large aviary next to his Connecticut home. With the exception of some saltwater fish, all of his other animals come from domestic breeders he knows and trusts. Still, before the recent purchase of a captive-bred hyacinth macaw, he flew out to visit the breeder in Utah to inspect the bird and its surroundings. And upon its arrival on the east coast, the bird spent three months in quarantine and underwent two rounds of tests before it joined the rest of the flock.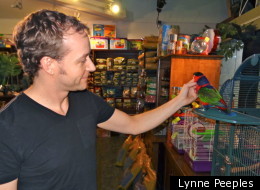 Kopulos pulled a brightly colored black capped lory named O.J. out of a cage in the middle of the store and began stroking its head. Since he had bred the 7-year-old bird himself, he noted that it had not needed to undergo any quarantine or screening. Years ago, O.J.'s parents had been quarantined before being brought into his collection, as well as tested for all commonly known pathogens that the New Guinea native could harbor.
"If you soak a reptile, make sure to clean the bathtub out," he added. "A lot of reptiles poop while in the bath."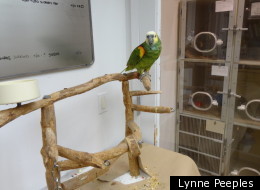 In a corner of The Center for Avian and Exotic Medicine's main boarding room, next to Monico's perch, is the isolation ward. A sick Java sparrow sat inside one of the glass enclosures. The small bird had yet to be screened for pathogens or abnormal bacteria, and therefore had to be temporarily quarantined away from the other animals.
SUBSCRIBE AND FOLLOW
Get top stories and blog posts emailed to me each day. Newsletters may offer personalized content or advertisements.
Learn more