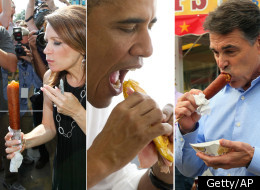 What is it about people's eating habits that we find so interesting? This voyeuristic fascination peaks when celebrities and politicians are concerned, and even more so when we're talking about our presidential candidates. Do we believe that the way a candidate eats his pizza speaks to how well he can run a country? Or are we just being food voyeurs? Probably the latter.
Regardless, we at HuffPost Food can't help but satisfy our curiosity; we want want to know what the Obamas ate on their first presidential restaurant outing (at Citronelle, he had the 72-hour short ribs and she had the lobster burger), and what's really in the Ron Paul family cookbook (thousand island dressing, and Velveeta, for starters).
So if you're curious which candidate devours celery by the stalk and which pulls the cheese off their pizza, read on.
Presidential Contenders Food Habits
Romney subsists largely on turkey breast, rice and broccoli, according to Politco's new ebook about the 2012 campaign. The book also divulges that he strips the cheese off of his pizza and the skin off of his chicken (essentially stripping his food of all the flavor). But Romney's food choices aren't only flavorless protein and limp veggies, he has a couple of food vices like the rest of us -- if you can call them that. His wife, Ann Romney, shared in an interview with Parade that this presidential candidate "loves cold cereal. And caffeine-free Diet Coke." But that's not all, Romney also has a soft spot for low-fat Over the Moon chocolate milk. He likes his chocolate beverages hot as well. As a devout mormon, Mitt Romeny abstains from coffee and tea. Instead, he indulges in hot chocolate to get himself going.

The Ron Paul Family cookbook -- published by Ron Paul's wife, Carol -- has a number of recipes that reflect this family's lack of concern for saturated fats. According to Slate, there are recipes that call for an entire block of cream cheese and a cheese soup recipe made with Velveeta. Even Thousand Island dressing makes a comeback in this book. You can also find recipes for pepper steak and warm sauteed bananas. The cookbook features 28 pages of recipes from Ron Paul's family members and supporters. According to the site's description, it is "much-in-demand and collectible." The cookbook sells for $8 at the campaign store, and is even cheaper if you order in bulk.

Newt Gingrich has been in the political sphere for quite some time now, and it just may be safe to say that he has been on a diet for just as long. Not a friend to a good metabolism, Gingrich is familiar with low fat diets and exercise regimes. Even back in 1997, Gingrich was succumbing to weekly dinners of grilled chicken, ''in any shape or form," served along with healthy vegetables. Sodium and fat were on the outs, along with his much-loved ice cream and pizza.

Rick Perry got a lot of bad press for eating a corndog on a stick; a fairly suggestive object, it doesn't make a good prop for photo opps. Such a sight allows the public's imagination -- and creativity -- to run wild. Perry has also enjoyed a hard-boiled egg and a pork chop from a stick. Could this be his preferred method of getting food to his mouth? Could be. "Can't beat a pork chop on a stick at the Iowa State Fair," Rick Perry tweeted after his protein-stick extravaganaza. Aside from fair food, Perry also delves into the world of barbecue. According to "Holy Smoke: The Big Book of North Carolina Barbecue," in 1992, at the National Republican Convention in Houston, Perry had a sample of barbecue from North Carolina's King's of Kinston. What did he think of it? "I've had roadkill that tasted better than that," Perry was quoted saying. The governor might just be partial to Texas barbecue. The restaurant did not respond too poorly. The owner, Wilbur King, claimed that the comment was clearly made in jest. But other North Carolina joints did not take the quote so lightly. Smithfield's Chicken 'N Bar-B-Q sent Perry two pounds of its barbecue, one pound of slaw and a pint of house hot sauce, along with a letter asking him to give N.C. barbecue another shot.

Even though Michele Bachman enjoys her diet cokes and Tee Pee specials -- which consists of a tostada, taco, enchilada, rice and beans from Tee Pee Mexican Food in Phoenix -- she is a healthy gal at heart. Her absolute favorite food is celery, straight-up -- no peanut butter, no blue cheese dressing. She revealed this during an interview with David Brody, and said of the produce, "I will personally consume the entire stalk of celery. At the Thanksgiving table I have the plate of celery in front of me. I know it's strange. It's my favorite food." Much like follow candidate Rick Perry, Bachman also enjoys her foot-long corndogs. Upon leaving the Iowa State Fair, Bachman stopped for a chicken and beef sausage in deep-fried batter topped with mustard. Once again, the photos were disturbing. Will these candidates ever learn?

If everyone shared the same love for street food as Jon Huntsman than the food truck business would be booming even more. In a video interview featured on his campaign site, Huntsman declared his love of what he refers to as good, cheap and fresh food. He explained that his appreciation for street food was likely cemented during his time living in third world countries. His fondness for it first began in the '60s when as a child his father would bring him to Henry's Tacos in Los Angeles. As governor in Salt Lake City, Huntsman used to frequent a taco stand on State Street. He loved the 50-cent tacos so much that he used to round up staff members there to hold spontaneous staff meetings. Lastly, in an appearance on "The Colbert Report," Huntsman committed a gaffe in attempting to make a Chinese food joke. According to Slate, when the show played a stereotypical Chinese musical jingle, Huntsman quipped, "When's the delivery food coming?" After a groan from the audience, Colbert responded, "Did that go over well in Beijing?"

Although no longer in the running, Herman Cain still deserves a mention for being such a spirited, presidential candidate. If there is one thing we can say for certain, it is that Cain has had a long affair with pizza -- and women. As the former CEO of Godfather's Pizza, Cain is unsurprisingly particular about his pie preferences and routinely compares pizza quality to Godfather's. In a recent GQ interview, Cain opined, "The more toppings a man has on his pizza, I believe the more manly he is." And, "a manly man don't want it piled high with vegetables! He would call that a sissy pizza." Cain likes his pizza loaded up with a lot of meat. His favorite type of Godfather's pizza he tells GQ is "The combo, where you put the sauce, the sausage, a little bit of ham, peppers, normally would have onions, and you top it off with mozzarella cheese. You know it has some cheese on, it but it doesn't have a whole lot." But Cain doesn't subsist. While visiting Cafe Versaille, a famous Cuban bakery in Miami, Cain enjoyed a "cafesito" and a croquetta. Wanting to express his enjoyment to the audience, he asked "How do you say delicious in Cuban?"

Perry isn't the only candidate fond of indulging in hearty foods on the campaign trail. We know that President Obama has had his fill of gut-busting meals at Five Guys, Ben's Chili Bowl and Ray's Hell Burger. We also know that he just enjoys food. What really gets Obama's appetite going? According to longtime Obama advisor, David Axelrod, cheeseburgers and pie. The president also has a soft spot for granola bars, chili, Hawaiian-style pizza, and takes his cheeseburgers with dijon mustard, shares iVillage. The information available on Obama's food preferences is vast, and the variety of restaurants he's visited since entering office is extraordinary. Aside from burgers and chili, Obama likes to indulge in even finer foods and dine at some of the best restaurants in the country, like Blue Hill in New York City. Some of the president's favorite Chicago restaurants include Spiaggia (where he went to celebrate his election), Rick Bayless' Topolobampo and Sepia.