Panthers Trick Play: Cam Newton Fakes Out Texans En Route To Touchdown (VIDEO)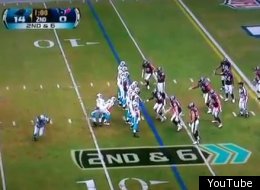 Cam Newton and the Carolina Panthers reached deep into their bag of tricks during the first half against the Houston Texans on Sunday. On second and six at Houston's 7-yard line, the rookie phenom lined up under center with tight end Richie Brockel crouched directly to his right. In what already looked like a strange formation, Newton snapped the ball with the offensive line still standing, spun around the still-Brockel and started running to his right with running back DeAngelo Williams following.
But Newton, who set the NFL single-season record for rushing TDs by a quarterback last week, had subtly handed the ball to Brockel as he went around him. With the defense unsure who to pursue, Brockel dashed to his left with a convoy of linemen paving a path to the end zone. The score put the Panthers up 21-0 late in the second quarter, which was too much for quarterback T.J. Yates and the Texans to overcome in the second half.
WATCH VIDEO AT THE TOP