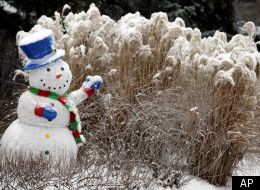 Chicago's milder-than-usual winter is expected to continue at least through the end of the current week -- good news for procrastinating holiday shoppers, but disappointing news for locals dreaming of a white Christmas this year.
As the Chicago Sun-Times reports, though some snowfall may occur throughout the week, the precipitation is not expected to accumulate more than an inch, which is the minimum required for the National Weather Service to officially proclaim a white Christmas.
The winter storm, originating in New Mexico, that is expected to arrive in the area Tuesday could begin as a rain/snow mix but will likely taper off into rain quickly as the temperature increases. According to the Chicago Weather Center, the rainfall could contribute to 2011 becoming the city's second-wettest year on record.
Rain will likely turn into snow later in the week as the temperatures decrease again, resulting in some flurries by the week's tail end. NBC Chicago reports a "slight chance of snow" Saturday, Christmas Eve, with highs approaching 36 degrees, while a 35 degree high and partly sunny skies were forecasted for Christmas Day Sunday.
Chicago's lack of snowy weather is part of a national trend, as AccuWeather points out: only about 20 percent of the country is expected to have snow on the ground Sunday, while last year, approximately half of the country experienced a white Christmas. Chicago's first measurable snowfall this year, on Dec. 9, tied for the fifth-latest "first snowfall" in the city's history. The city's first measurable snowfall usually occurs around Nov. 21.
It remains to be seen what all this will mean for meteorologists' predictions earlier this year that this winter in Chicago could include as much as 58 inches of snow and call home to some of the nation's worst weather.