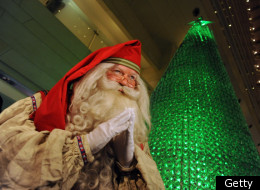 &iexclFeliz Navidad y un pr&oacutespero a&ntildeo nuevo!
Latinos are known for festive celebrations, but Christmas takes the cake -- or the bu&ntildeuelo de Navidad.
Hispanic celebrations tend to be big, with families and friends, with food and drink. At times, entire neighborhoods -- even the strangers -- come together for the holiday festivities, singing and dancing and eating among an extended family of relatives and friends.
Here in the U.S., Latinos have mixed together traditions from our countries of origin while also adopting some classic American ways of celebrating. In some Hispanic communities, it's common to find nativity scenes which take over entire living rooms. In others, and reflecting the deep roots of Christianity within Latino communities, we find families dressed up to reenact the birth of Christ as the three wise men come to herald his arrival. And in some places, Latinos compete with the very best to decorate their homes, garages, yards and more with Christmas lights and iconography.
But, seeing as how we're in the holiday spirit -- perhaps it was the coquito --, we are a bit nostalgic about the Christmastime traditions of our homes, of our childhoods, of our ancestors. Forget the Christmas tree, Santa and his reindeer for the moment; here's a sampling of nuestras tradiciones navide&ntildeas:
Christmas Celebration Latino Style
It is known as "Noche de Rabanos," or "Radish Night," a century-old celebration held every December 23 in the main square in the city of Oaxaca, Mexico. Artisans carve and fashion radishes into elaborate scenes and human figures in one of the most unique celebrations in the world. Radishes are made to look like Jesus and other characters in the nativity scene. There's traditional music and dance and typical food. And let's not forget the piñata. Flickr Photo by Planeta

As in many Hispanic countries, in the week leading up to Christmas Eve, Venezuelans attend Mass service rigorously. But they add a spin to it. They roller-skate their way to church. In Caracas many roads are closed to allow skaters to travel. There's more. "The kids tie string to their toes and hang it out the window the night before for the skaters to tug at them as they roll past, waking the children so they can hop out of bed and watch before breakfast," according to Sabotage Times.

The parranda is a Puerto Rican tradition where groups of friends and even strangers gather to "asaltar" or overtake other friends' homes with holiday merriment. Some "parranderos" play musical instruments such as guitars, tamboriles and maracas, while others dance. Everyone sings. Parrandas are spontaneous, so every household must be prepared all throughout the holidays and at all hours to receive guests. Rum and traditional food is always available. Flickr Photo by Puerto Rican Cultural Center

Christmas Posadas are most popular in Mexico, Guatemala and parts of the southwest United States. Children and adults dress up as Mary and Joseph in small processions that are held during the nine days before Christmas Eve. The Posadas are supposed to be a reenactment of Joseph and Mary's -- "The Pilgrims"-- search for lodging on their way to Bethlehem. According to Mex Connect, the tradition includes a party at a different neighborhood home each night. "The Pilgrims" sing a song asking for shelter, with the hosts replying in song before opening the door to offer hot punch, fried rosette cookies known as buñuelos, steaming tamales and other holiday foods. The party ends with the rupturing of a piñata in the shape of the Christmas star. Flickr Photo by kat_egli

Misa de Gallo, or the Rooster's Mass, is a celebrated at midnight on Christmas Eve to mark the birth of baby Jesus. This Catholic tradition originated in Rome and Spain but spread to other countries. Today, Misa de Gallo is one of most important celebrations across the Hispanic world and even in the Philippines, where it is "traditionally held at the crack of dawn,"according to News Info Inquirer. "When the practice was popularized in Mexico, it was attuned to the needs of rural families who needed to celebrate Mass and still have time to return to their farms to work."

The "Novena" is a series of prayers that are said for nine straight days in anticipation of the birth of Jesus. The prayers are petitions but also offerings of thanks. Families typically gather around nativity scenes and pray together. After prayer, people play instruments and sing Villancicos or Christmas carols. In the picture above a group of children pray the Christmas Novena while recreating the Nativity scene in Bogota, Colombia.

Each night, after the Novena prayers have been said, families sing Villancicos which are Christmas carols. Villancicos are usually accompanied by a series of instruments such as rattles and tambourines. This is "El Burrito Sabanero" ("The Donkey From The Savannah"), a popular villancico that Latino kids all learn to sing.

In the Año Viejo celebration, people make life-size dolls from cardboard, sawdust and cloth and burn them at midnight on December 31. The Año Viejo doll represents the bad times of the past year and they're being symbolically burned in hopes of starting the new year with a clean slate. It's also an opportunity for creativity, with the dolls often depicting famous people, cartoon characters and even political figures that people disagreed with during the previous year. The Año Viejo tradition is popular in South American countries.

In many Spanish-speaking countries, Three Kings Day, or Dia de los Reyes Magos, on Jan. 6 is more important than Christmas. The holiday honors the arrival of the Three Wise Men -- Balthazar, Melchor and Gaspar-- bearing gifts for the newborn Jesus, a story from the New Testament. At the start of the new year, children typically write letters to Los Reyes Magos asking them for gifts. In Puerto Rico, it is traditional for children to leave grass or hay under their bed for the camels carrying the Three Kings. In Peru, parties are held to take down family nativity scenes and putting them away until the next holiday season. This picture was taken in a Church celebration of Dia de Los Reyes in San Salvador, El Salvador.
WATCH RELATED: