'Fabulous Beekman Boys' Engaged: Josh Kilmer-Purcell And Brent Ridge Set To Wed (PHOTOS)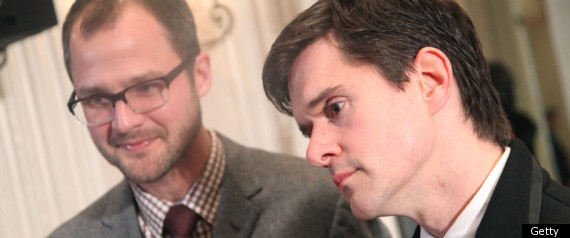 What was intended as a preview party for their new skin product turned into a surprise engagement fete for the "Fabulous Beekman Boys," when Dr. Brent Ridge popped the question Friday night to his longtime partner, Josh Kilmer-Purcell.
"It's thrilling that after thirteen years, we're finally going to get married," the happy couple said in an e-mail. "It feels like the day we first met all over again."
It was a spectacular end to what has turned out to be a bittersweet year for the couple, whose Planet Green television series was cancelled earlier this fall. Nevertheless, 2011 also saw the release of "The Beekman 1802 Heirloom Cookbook," which garnered a rave review from HuffPost Kitchen Daily, and there are reports that the boys are in talks with other networks to revive their program.
The engagement party was hosted by "The Real Housewives of New York" star Sonja Morgan, and had been disguised as a preview for "Lump of Kohl," which is billed as "a skin detox treatment that uses bamboo charcoal to remove impurities and chemicals from the skin and pure goat milk from Beekman Farm," according to Ridge and Kilmer-Purcell's lifestyle website, Beekman 1802, which features handmade, artisanal products.
The full proposal was taped by Bravo's cameras, and will reportedly air on a future "Housewives" episode. Queerty originally broke the news last Saturday.
Among those who wished the couple well was Mike Thompson, Acting President of the Gay and Lesbian Alliance Against Defamation (GLAAD). "We're thrilled to wish Josh and Brent our warmest congratulations and join millions of Bravo viewers in looking forward to watching the proposal unfold on the network's airwaves," he said in a statement. "Whether on the farm, at LGBT events or with Beekman 1802, Josh and Brent have been strong advocates for our community who continue to use their story to show that all Americans should be able to marry the person they love."
View some exclusive shots of the engagement bash, along with an earlier video interview of the Beekman Boys, below: