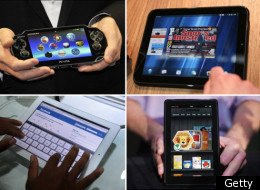 Google Zeitgeist 2011 offers a look back at the year in search, from the most popular exotic animals, to the fastest-rising celebrities, to the topics that tickled the fancy of New Yorkers, Los Angelinos and more.
Googlers can visit the Google Zeitgeist site to explore all of the most popular, fastest-rising and even some of the fastest-falling search terms users queried Google throughout the year. The site lets you view the most popular searches from around the world or hone in on specific countries.
"[P]eople turned to Google to learn more about what was happening on the world stage," Google Fellow Amit Singhal explained in a post on the Google Blog. "It wasn't just the man-made moments that topped the charts this year, but also the natural disasters that literally shook the world, from Hurricane Irene in the U.S. to the earthquakes in Christchurch and Japan."
The search engine also offers a list of the fastest-rising consumer electronics searches. This list differs quite a bit from the year's overall top gadget searches on rival search engine Bing. In fact, the two sites' lists share only one result in common: iPad 2 (number six on Google's list; number seven on Bing's). The difference exists at least partially because Google's list examines search results that spiked fastest in popularity around the world and doesn't necessarily include products available for consumption (iPad 3 came in at number 10 on the list, for example), while Bing's list reported only the highest-searched terms of the year.
Check out the slideshow (below) to see the top consumer electronics on Google this past year, then click on over to our Zeitgeist 2011 overview, where you'll find Google's fastest-rising search terms of 2011, as well as Google's emotional video tribute to the year. The search engine also revealed to TechCrunch some more data on the year's most popular gadgets, data that isn't publicly available on the Zeitgeist site. Visit TechCrunch to view even more hot gadgets from 2011.