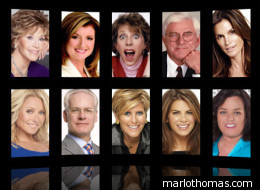 This is a special holiday edition of Mondays With Marlo, featuring my 10 favorite tips from the experts who've joined us in 2011 - I hope you enjoy these wonderful clips!
Top 10 Clips From My Expert Guests
Tim Gunn reveals the ultimate crime against fashion!

Rosie O'Donnell shares the story of how she and her fiancee met!

During his career as a talk show host, Phil Donahue interviewed hundreds of people - but there was one guest that he got nervous about having on his show.

World famous supermodel emphasizes the importance of making sunscreen part of your daily skin care regimen.

Jillian Michaels explains why alcohol is a huge contributing factor to stubborn belly fat.

Actress Jane Fonda talks about how the roles women play in films have changed after her portrayal of Barbarella.

Personal finance expert Suze Orman responds to a question about salary negotiation.

Unthinkable, but true - Carol Burnett once got herself fired! Can you believe it?

Talk show host and working mom Kelly Ripa reveals the key to sustaining her marriage.

Fearless living is what Arianna Huffington is all about! Her book "On Becoming Fearless...in Love, Work, and Life" urges women to stop holding themselves back and instead fearlessly live up to their full potential. Here are her top five tips for overcoming YOUR fears.
Add Marlo On Facebook:
Follow Marlo on Twitter:
Weekly Newsletter

Sign up to receive my email newsletter each week – It will keep you up-to-date on upcoming articles, Mondays with Marlo guests, videos, and more!

Sign up here