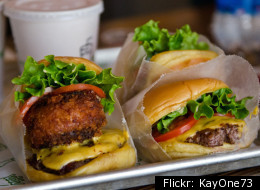 Danny Meyer's perfect line-inducing burger is coming to town.
The Shake Shack at the edge of the Fulton mall is set to open Tuesday, and this shack, the franchise's seventh, is Brooklyn's very first.
Eater has some pics of the interior, which is a far improvement from the vacant ex-pizza place it's been for years. The Shack is offering three exclusively Brooklyn custard Concretes, and the usual assortment of fast food treats.
The documentary "My Brooklyn" had documented the way in which people openly denigrate the mall, home to many a wig and shoe and electronic stores, and how eager passersby were to transform the space. So is this the beginning of the end of the Fulton mall, signaling a new era of gentrification moving down the mall? The Observer doesn't seem to think so, naming a set of new "down market" places that is still slated to open soon.
(409 Fulton St. at Adams Street in Downtown), open 11 am-11 pm. For info, visit www.shakeshack.com.