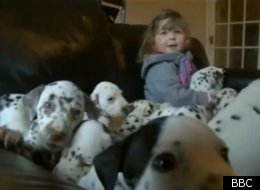 Even if dog owner Kay Sullivan is overwhelmed by her two-and-a-half-year-old dog Pebble's litter of 15 Dalmatian puppies, one thing's for sure: Cruella de Vil would be thrilled.
Despite the adorableness, Sullivan told the BBC that the surprise litter was much more than they bargained for.
"We were expecting an average litter of about seven or eight," the West Wales resident told the BBC. "We weren't expecting 15. It's a bit much."
Sullivan said that the playful pups are draining a little more than the family's energy, the Daily Mail reported.

"We're not breeders," Sullivan said, according to the news source. "They're already costing us an arm and a leg to be honest.'
A report by the Mirror wrote that Sullivan and her husband are likely to make back at least a portion of their money, with each pup valued at 450 pounds.
"One puppy is already sold to someone in Italy through a Facebook friend," Sullivan said, according to the Mirror. "But to be honest I will miss them when they go." Watch the puppies play with the Sullivan's daughter in the video above.
If you are interested in becoming a dog owner, consider adoption. Check out Petfinder.com or the ASPCA website to learn more.
Over the summer, 16 Dalmatians were born in the U.K. to a dog named Milly. Check out photos from earlier this year of Milly and her puppies:
Photos released by Elvins Family/Newsteam/Getty Images.
A two week old Dalmatian litter of 16, begin to show their spots as they sleep in a circle. Their mother Milly was also born in a liter of 16 dalmatian puppies which is extremely rare. The puppies belong to the Elvins Family in Church Stretton, U.K.

The mother Dalmatian named Milly who herself was born in a huge and rare litter of 16 puppies has proved lightning can strike twice after she also gave birth to 16 beautiful spotted pups in Church Stretton, U.K.

A few of the 16 Dalmatian puppies peer over some hay in Church Stretton, U.K. The litter's mother was also born from a huge litter of 16 puppies. The puppies born by caesarian section even surprised the vet who after delivering 8 found that the mother Milly had 8 more puppies to go.

Lucy Elvins plays with the 16 Dalmatian puppies at their family home in Church Stretton, U.K. The huge litter is extremely rare as was their mother who was also born in a litter of 16 Dalmatians. The mother and puppies are all doing well.