Fox News sent out quite the Christmas card this year, complete with a poem gloating the network's ratings success.
On the front of the card, a cartoon fox is leading a race of sheep-drawn sleighs with broadcast networks NBC, ABC and CBS trailing behind. NBC and ABC appear neck and neck, while CBS is behind in fourth place.
In the top corner of the card, two cartoon characters representing MSNBC and CNN sit on a hill watching and not participating in the race.
The poem on the back of the card is reportedly set to the holiday tune Joy to the World. The poem highlights Fox News' high ratings and names the network the "one to beat."
PHOTO: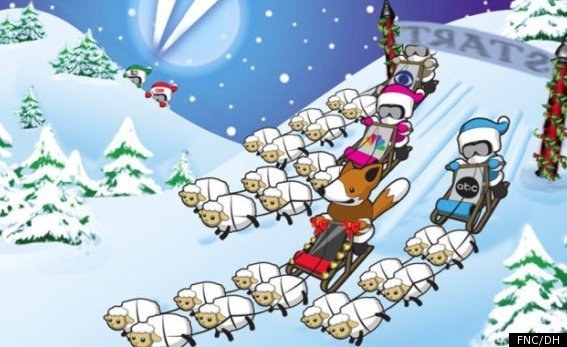 View a slideshow of Fox News' lineup below.