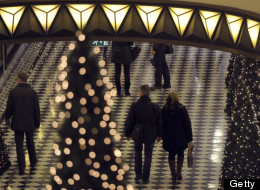 Looking for an expensive Christmas gift? Track down family and friends living in the Washington, D.C. metro area.
D.C. tops the list of cities with the most money to spend on Christmas gifts, according to an index developed by Richard Florida and the Martin Property Institute, cited by The Atlantic. The top 20 list also includes New York, San Francisco and other large metro areas.
The cities in Florida's list may be where shoppers are spending the most on gifts, but consumers everywhere are likely to spend more on Christmas presents this year. The National Retail Federation upped its holiday sales forecast earlier this week to a 3.8 percent boost or a record-breaking total of $469 billion.
In response to the demand, some stores are offering extended hours to give consumers ample time to shop. Toys 'R Us is staying open for 112 hours straight in the lead up to Christmas, CNNMoney reports and 14 Macy's stores will stay open from Wednesday to Saturday -- or 83 hours straight, -- according to the Chicago Tribune.
And if Black Friday is any indication, the extended hours may help boost retailers. After stores like Target, Best Buy, Macy's and Walmart opened earlier on Black Friday -- or even on Thanksgiving day -- sales on the largest shopping day of the year were up 9.1 percent, according to the NRF.
But some weren't happy with the earlier openings. Workers at Target and Best Buy started petitions aimed at convincing their employers not to open at midnight on Black Friday because it would limit the amount of time they could spend with family on Thanksgiving day.
These are the cities with the most money to spend on Christmas shopping, according to Richard Florida and the Martin Property Institute: