Kris Humphries Reportedly Signs $8 Million Contract With New Jersey Nets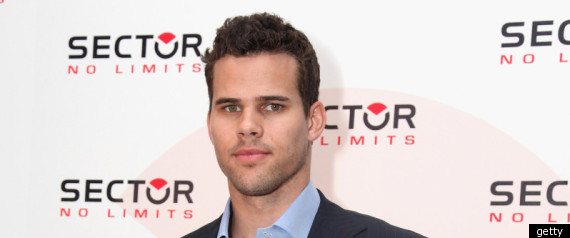 Looks like all that focusing on basketball paid off.
ESPN reports Kris Humphries has re-signed with the New Jersey Nets
The 26-year-old power forward is said to be re-signing with the team for more than double last year's salary, nabbing a one-year deal worth $7 - $8 million, reports the New York Post.
Once Kris passes his physical exam, he could be back on the court tonight for Nets' game against the New York Knicks.
Early this morning Humphries tweeted he is "excited to be back!" and he told reporters, "I feel like I'm home."
Humphries began his NBA career in 2004, playing for the Utah Jazz and was traded to the Toronto Raptors in 2006. In 2009 he was traded to the Dallas Mavericks, and traded again in January 2010 to the Nets.
The new contract is a big win for Humphries who reportedly made $3.2 million on the court last year.
Adding the reported $18 million Kris and soon-to-be ex-wife Kim Kardashian made off their wedding, (though the Kardashians deny they profited at all) Kris is more than sitting pretty -- even if he doesn't get a penny from the iron-clad prenup he is thought to have signed.
2011 was a breakout season for Humphries, averaging a double-double for the Nets and nabbing 10.4 rebounds per game, good for fifth best in the NBA. Even if he wasn't so lucky in love, his drama with the Kardashians hasn't seemed to hurt him professionally.
In his first interview since Kim filed for divorce, Humphries repeatedly told "Good Morning America," he was "ready to move forward," and that he wasn't focusing on his personal drama, just on basketball.
Check out more of Kim Kardashian's exes:

Loading Slideshow
Kris Humphries

Kardashian <a href="http://www.huffingtonpost.com/2010/12/07/kim-kardashian-dating-kris-humphries_n_793278.html" target="_hplink">began dating New Jersey Nets player Kris Humphries</a> in December 2010 after watching him play basketball in late November. The pair took their fast-moving relationship to the next level when Humphries <a href="http://www.huffingtonpost.com/2011/05/25/kim-kardashian-kris-humphries-engaged_n_866631.html" target="_hplink">proposed</a> -- on camera for her E! reality show, of course -- in May and they wed on August 20, 2011. But the wedded bliss ended October 31, 2011 when Kim filed for divorce after 72 days of marriage.

Gabriel Aubry

Halle Berry and Gabriel Aubry announced their split in April 2010, and in November, the model was <a href="http://www.huffingtonpost.com/2010/11/22/kim-kardashian-gabriel-aubry-_n_786940.html" target="_hplink">spotted out and about with newly-single Kardashian</a>. The couple enjoyed a Lakers game and a movie date together, but less than a month later, Kardashian would meet Kris Humphries -- and he would sweep her off her feet.

Michael Copon

Kardashian was rumored to be <a href="http://www.huffingtonpost.com/2010/10/07/michael-copon-kim-kardash_n_753863.html" target="_hplink">casually dating</a> "One Tree Hill" actor (and her "Beyond The Break" co-star) Michael Copon in October 2010, and he even appeared on her E! reality show, "Kourtney & Kim Take New York," but that's about it.

Miles Austin

Kardashian switched teams after splitting from Bush -- literally. She began dating Dallas Cowboys football player <a href="http://www.huffingtonpost.com/2010/07/13/kim-kardashian-boyfriend_n_644504.html" target="_hplink"> Miles Austin in July 2010</a> but the pair <a href="http://www.people.com/people/article/0,,20427399,00.html" target="_hplink">split in September</a> after just a few months together.

Reggie Bush

Kardashian found love once again later in 2007 -- this time with football player Reggie Bush. Their relationship drama was documented on the E! reality show, "Keeping Up With The Kardashians," and we thought Kim had finally found "The One." However, the on-and-off couple <a href="http://www.eonline.com/news/hwood_party_girl/kim_kardashian_reggie_bush_split_again/172983" target="_hplink">ended things for good in March 2010</a>. Bush continues to play football -- now for the Miami Dolphins -- and was most recently linked to Melissa Molinaro, an actress <a href="http://www.huffingtonpost.com/2011/06/22/reggie-bush-now-dating-kim-impersonator_n_882234.html" target="_hplink">bearing a striking resemblance</a> to Kardashian.

Nick Cannon

After her split from Ray J, Kardashian moved on with actor/rapper/comedian Nick Cannon. The couple reportedly split in early 2007 after the release of Kardashian's sex tape. Cannon, who is currently a radio personality on New York's 92.3 NOW FM, tied the knot with Mariah Carey in April 2008. The couple welcomed their first children, fraternal twins, in April 2011.

Ray J

Also in 2006, Kardashian dated R&B singer Ray J -- who is the brother of singer Brandy. The relationship didn't last, but the public release of their infamous sex tape in early 2007 shot Kardashian into the spotlight...and eventually got her $5 million after settling a lawsuit against Vivid Entertainment. Ray J went on to star in the VH1 reality show "For The Love of Ray J" in 2009, and continues to work in the music industry.

Nick Lachey

After her divorce, then-stylist Kardashian <a href="http://www.people.com/people/article/0,,1199443,00.html" target="_hplink">casually dated</a> Nick Lachey in 2006 -- just six months after his divorce from Jessica Simpson -- but they were never serious. Lachey also began dating TV personality Vanessa Minnillo in 2006 and the couple married in July 2011.

Damon Thomas

Kardashian may be walking down the aisle on August 20, but it's not the first time she's been a wife. The reality star married 30-year-old music producer Damon Thomas in 2000 when she was just 20 years old. Their love wasn't meant to last, however, and the couple split in 2004. In 2010, their divorce papers were <a href="http://www.huffingtonpost.com/2010/05/05/kim-kardashians-ex-damon_n_563949.html" target="_hplink">leaked to the press</a>, revealing Kardashian claimed Thomas was physically abusive toward her. Thomas denied the allegations and <a href="http://www.huffingtonpost.com/2010/05/05/kim-kardashians-ex-damon_n_563949.html" target="_hplink">responded with a press release</a> where he called her a fame-loving liar.
Related on HuffPost: