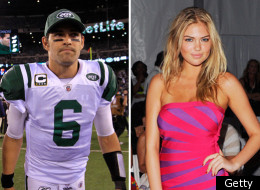 I suppose being the quarterback of the New York Jets has its perks.
According to the New York Post, Mark Sanchez has been linked to swimsuit model Kate Upton in recent weeks, reportedly making frequent late night visits to her apartment.
Of course, Upton isn't the only woman Sanchez has been linked to during his time in the Big Apple. Since he's been in New York, Sanchez has also been linked to Soprano's actress Jamie-Lynn Sigler, along with actress Hayden Panettiere. Earlier this year, Deadspin published a story about Sanchez allegedly hooking up with a 17-year-old high school student.
Upton was rumored to be seeing hip hop star Kanye West earlier in the summer, but now has appeared to moved on to the sports world.
The 19-year-old Upton gained fame in the past year after appearing in the Sports Illustrated swimsuit edition and having a video of her performing "the Dougie" go viral (Video below).