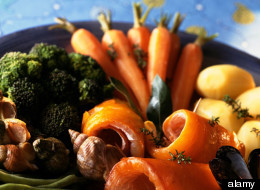 We may be one step closer in that eternal quest to find the fountain of youth. A new study suggests eating a Mediterranean diet might increase lifespan.
The findings, published in the journal AGE, show that elderly people who eat a Mediterranean diet -- which is high in fish and vegetables and low in animal products like milk and red meat -- have about a 20 percent increased chance of living longer compared with their non-Mediterranean-eating counterparts.
"This means in practice that older people who eat a Mediterranean diet live an estimated 2-3 years longer than those who don't," Gianluca Tognon, scientist at the Sahlgrenska Academy, University of Gothenburg, said in a statement.
The study was based on data from the H70 study in Sweden; the H70 study has gone on for more than 40 years in the Swedish region, and included thousands of 70-year-olds, researchers said.
This is certainly not the first study to show a link between eating a Mediterranean diet and living a longer life. A 10-year study published earlier this year in the American Journal of Clinical Nutrition shows that men ages 55 to 69 who abide by a Mediterranean diet have an extended life expectancy of eight years, the Times of India reported. For women, the extended life expectancy is even higher, at up to 15 years.
Recently, the Mediterranean diet ranked third in the U.S. News and World Report's list of best diets for healthy eating. For the full ranking, click through the slideshow:
4.8 stars out of 5 stars Named a BEST U.S. News diet Panelists applauded the Dietary Approaches to Stop Hypertension (DASH) plan for its nutritional completeness and safety -- it racked up lots of 5s and 4s in both categories. Endorsed by the federal government's Department of Health and Human Services, the diet is packed with produce and light on saturated fat and salt. More From U.S. News: Stop Emotional Eating With These 5 Tips 5 Great Diets for the Whole Family Best Commercial Diet Plans

4.7 stars out of 5 stars Named a BEST U.S. News diet Developed by the National Institutes of Health, the Therapeutic Lifestyle Changes (TLC) diet nearly matches the DASH Diet for healthiness, panelists agreed. Doling out all 5s and 4s, Experts approved of the fiber and calcium it generously provides as well as the saturated fat it doesn't.

4.6 stars out of 5 stars Named a BEST U.S. News diet A Mediterranean buffet will showcase foods like whole-grain pita and hummus, salads, fresh fruits and veggies, salmon, and beneficial fats like olive oil. Dieters can drink to each others' health -- a glass or two a day of red wine is encouraged. The diet meets the government's recommendations for healthy eating without compromising safety, panelists concluded.

4.5 stars out of 5 stars Named a BEST U.S. News diet You're in good hands with this diet developed by the high-profile medical center. The experts liked the plan's unique eating pyramid, which promotes foods with low energy density (you can eat more but take in fewer calories) like fruits and veggies. It took home all 4s and 5s, save for one 3, in both safety and nutrition categories.

4.5 stars out of 5 stars Named a BEST U.S. News diet A diet that's also based on low-energy-dense foods, Volumetrics menu items are large in volume but low in calories. That's thanks to a whole lot of fruits, vegetables, whole grains, nonfat dairy, and lean meat. Volumetrics manages to meet or come close to recommendations for the majority of nutrients you need, making it a safe, healthy-eating approach.

4.4 stars out of 5 stars All-you-can-eat fresh fruits and veggies? It's got to be healthy. Dieters are allotted daily points that are devoured if they choose fatty foods like sweets. Weight Watchers promotes a healthy, balanced approach to eating, concluded the experts. They didn't have many worries that dieters would miss out on nutrients or lose weight too quickly, and that makes it a safe plan.

4.3 stars out of 5 stars Dieters on Jenny Craig get appropriate amounts of fat, protein, and carbs, with lots of fiber and calcium. The program is "scientifically sound and safe," said one of the experts. It garnered 3s, 4s, and 5s in both nutrition and safety categories.

4.1 stars out of 5 stars Provided you limit what doctor Dean Ornish calls "group 5" foods that are loaded with saturated fat and instead stick with groups 1 through 3 at the other end of Ornish's spectrum -- fish, plants, whole grains -- your menu will stay in line with the government's recommendations and you won't risk your health.

4.0 stars out of 5 stars Going vegetarian doesn't automatically make for a healthy or safe menu. When the U.S. News expert panel analyzed a vegetarian menu adapted from U.S. Department of Agriculture guidelines, with meals like buckwheat pancakes, vegetable soup, and tofu stir fry, they found the approach nutritious and "very" to "extremely" safe.

3.9 stars out of 5 stars How much potassium and vitamins B-12 and D are supplied by the Nutrisystem Diet is unclear, but the U.S. News panel deemed the packaged meals, supplemented with snacks of fresh produce, nonfat dairy, and protein sources, generally nutritious and safe.

3.5 stars out of 5 stars This diet received fairly average ratings in safety and nutrition. Considering the nutrients it can provide, the GI approach is reasonably complete, the experts decided. You probably won't face major health risks.

3.5 stars out of 5 stars Getting just 1,200 calories a day on Slim-Fast didn't sit well with some experts. They thought the amount was on the low side, especially for dieters under 18, who are still growing. Still, the company's products are nutrient-fortified and dieters have one homemade meal each day, so the consensus was that Slim-Fast is mostly nutritious and safe.

3.5 stars out of 5 stars Not the best but not awful healthiness-wise. Although the diet doesn't supply sufficient carbs, and possibly not enough fiber, potassium, calcium, and vitamin D, either, the experts concluded that Zone isn't overtly risky.

3.3 stars out of 5 stars Experts had enough reservations to send South Beach toward the lower end of this list, but most don't consider it extremely nutrient-deficient or unsafe. It's a little heavy on fat in phase 1, short on carbs during phases 1 and 2, and low in potassium throughout. Some experts were concerned it might be too high in protein for those with kidney problems, too.

3.1 stars out of 5 stars Although it outperformed traditional Atkins, experts felt that Eco-Atkins is too heavy on fat and light on carbs. Still, dieters needn't worry about malnourishment or overly rapid weight loss. It manages a middle-of-the-road 3.

3 stars out of 5 stars It doesn't perfectly align with the government's guidelines for healthy eating, experts concluded, because it provides a little too much protein and too few carbs. At 800 to 1,000 calories a day, it also dips low for many dieters. The experts found it "moderately" safe.

3 stars out of 5 stars Veganism can conform with a healthful eating plan, but it takes work, and the risk of missing out on key nutrients like calcium, vitamin D, vitamin B-12, zinc, and iron is real. That worried experts a bit, but they still gave the diet a respectable 3.

2.2 stars out of 5 stars Slapping the diet with many 1s and 2s, experts couldn't accept that entire food groups, like dairy and grains, are excluded, making it hard for dieters to get all the nutrients they need. It's one of the few diets that experts actually considered "somewhat unsafe" and, on nutrition, only "somewhat complete."

2.1 stars out of 5 stars Because the raw food diet could come up short in calories, calcium, and vitamins B-12 and D, just a handful of experts scored it higher than 2 for nutritional completeness. As for safety, the experts felt the risk of food poisoning from raw or undercooked ingredients was all too real.

2 stars out of 5 stars Way too much fat and too few carbs, in the view of the experts, who questioned whether dieters can build a nutritious and safe diet with the severe restrictions imposed on veggies, whole grains, and fruits. Absent long-term safety data that might indicate otherwise, the panel put Atkins at the bottom of the pack.