16 Christmas Sweaters That Make Santa Puke Nog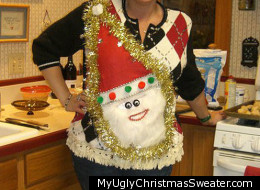 As much as you guys think you're being cute and clever with your "Ugly Sweater" Christmas parties, Santa, on the other hand, thinks you're a giant green and red knit-wit.
He takes this season very seriously, and your hideous, tinsel-covered cardigans and obnoxious sweater vests make the popped-collar polo look almost appealing.
So if your holiday attire resembles any one of these 16 ugly sweaters, kindly return it (and the matching dickie) to the first-grade teacher it belongs to. Otherwise, the big man in red will puke his nog and cookies all over your thrift-store ensemble.