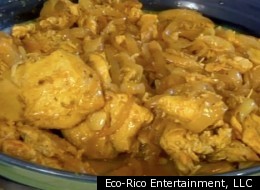 I'm looking out my window at the Caribbean, spending the holidays with family and friends on my beloved island of Puerto Rico. How appropriate to post this recipe for Pollo Encebolla'o, a typical country Puerto Rican dish. Jibaro, baby. This dish is one of my all-time favorites on the planet. Serve it with maduros (sweet plantains) or tostones (fried green plantains), rice and black beans. I'm drooling! A staple on any Puerto Rican table, it's simple enough to make but difficult to perfect. The secrets? The marinade and the searing.




INGREDIENTS:
One pound organic, free range chicken
Adobo
Olive Oil
Apple Cider Vinegar
1 large Onion
2-3 cloves Garlic
Oregano
Sea salt
Fresh lime

RECIPE:
Cut your breasts in half. Pound them down.

Season the chicken well, preferably with Gigi's Adobo. If you don't have adobo in your cupboard (WHAT?!), sprinkle sea salt, black pepper, garlic and oregano all over the breasts. If you're really stocked, throw some turmeric on there. Set aside.

In a pilón (mortar & pestle), pound together the garlic cloves, 1 teaspoon salt and 1/2 teaspoon oregano. Add this mixture to 1/2 cup of olive oil and 1/4 cup of apple cider vinegar. The ratio is 1 cup olive oil to 1/2 cup of vinegar. Adjust to the amount of chicken you're using. You can use white vinegar, but you won't get the complexity of the apple cider vinegar.

Pour this marinade over the chicken. Chop your onion in rings and mix them in with the chicken and marinade. I use one large onion (red, yellow or white depending on what's in my fridge) for each pound of chicken.

You can do all this overnight or an hour before. I prefer to marinate the chicken the day prior. It makes my life easier the next day 'cause I can make the dish quickly without too much mess.

Get your sauté pan nice and hot. Then pour the seasoned olive oil from the marinade in there. You can also use cooking spray. Be sure wait until the pan gets hot before adding the oil or you'll burn it! Save the garlic and onions for later!

Sear the chicken without cooking through about 2 minutes each side, tops. Take the chicken out and set aside. In that same sauté pan, put your onions and marinade in. Let them cook about 10 minutes or until the onions are translucent and starting to brown. They're carmelizing. YUM.

Put the chicken back in. I like to cover the pan and cook everything together for a few minutes on low heat. Do not overcook! Uncover and check your chicken. Cut into the middle of one to see if it's cooked through. If you use a thermometer, the chicken's done at 160 degrees.

Plate this deliciousness. Squeeze some lime over the chicken and onions. Welcome to La Isla del Encanto, my Homeland! ¡Buen provecho!

P.S. You can substitute your favorite steak for chicken, in which case it's bistec encebolla'o.
Giselle Achecar is the vibrant creator of EcoRico, an eco-lifestyle brand which includes the online sensation EcoRico cooking show, EcoSexy tips and the ground-breaking personal success program "Marry Your Passion with Your Purpose". This Latina Chef makes green living fun, sexy and accessible. Connect with Giselle at www.eco-rico.com, www.facebook.com/ecoricotv and on Twitter @EcoRicoTV.