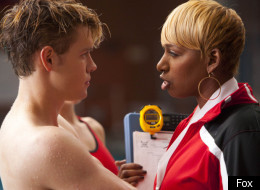 "Grease" is the word for "Glee" when it returns from its brief break on Jan. 17 at 8 p.m. EST.
Helping the show celebrate its return is guest star NeNe Leakes. Yes, "Real Housewives of Atlanta" star NeNe Leakes. That's not enough star power? Helen Mirren is also reportedly making a vocal appearance. Yep, the Oscar-winning Dame will provide the voice for a character's inner monologue.
NeNe guest stars as the new swim coach. Lea Michele and Chris Colfer made the announcement when they stopped by Bravo's "Watch What Happens Live!"
"We found out that her real name was Linnethia... which I am obsessed with now," Michele said. "She's awesome. She plays the new swim coach ... We literally raided her trailer."

WATCH: Lea Michele and Chris Colfer spill details on NeNe Leakes' guest role.