Occupy Wall Street Takes A Road Trip For Bradley Manning, Brings Baggage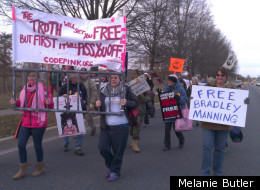 December 17th, 2011 was a big day for the Occupy Movement: the three month anniversary of Occupy Wall Street; one year since Mohamed Bouazizi's self-immolation that sparked the Tunisian revolution and in turn the Arab Spring, and the 24th birthday of PFC Bradley Manning, the US army intelligence analyst accused of giving WikiLeaks the information that led to Bouazizi's act and the events that followed.
These are the events I outlined to the New York City General Assembly by means of introducing our proposal to fund a bus trip from Occupy Wall Street to Fort Meade, Maryland, for Bradley Manning's Article 32 pre-trial hearing on December 16th. On that freezing Saturday night, I didn't predict that the trip, which was unanimously passed by the GA that night, would end up being dominated by yet another theme central to the Occupy movement: patriarchy.