Occupy Wall Street Protesters Sue Over Free Speech, Use Of Force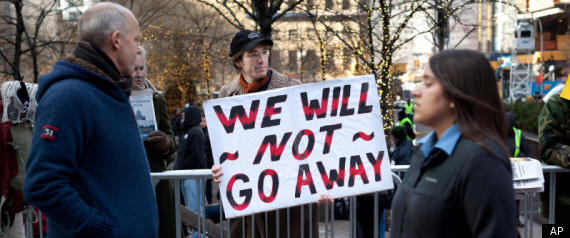 By ERIKA NIEDOWSKI, Associated Press

Most major Occupy encampments have been dispersed, but they live on in a flurry of lawsuits in which protesters are asserting their constitutional rights to free speech and assembly and challenging authorities' mass arrests and use of force to break up tent cities.
Lawyers representing protesters have filed lawsuits – or are planning them – in state and federal courts from coast to coast, challenging eviction orders and what they call heavy-handed police tactics and the banning of demonstrators from public properties.
(CLICK HERE FOR THE LATEST OCCUPY UPDATES)
Some say the fundamental right of protest has been criminalized in places, with protesters facing arrest and charges while doing nothing more than exercising protected rights to demonstrate.
"When I think about the tents as an expression of the First Amendment here, I compare it to Tahrir Square in Egypt," said Carol Sobel, co-chairwoman of the National Lawyers Guild's Mass Defense Committee.
"Our government is outraged when military forces and those governments come down on the demonstrators. But they won't extend the same rights in this country," she said. "They praise that as a fight for democracy, the values we treasure. It comes here and these people are riffraff."
A handful of protesters began camping out in September in a lower Manhattan plaza, demanding an end to corporate excess and income inequality, and were soon joined by scores of others who set up tents and remained around the clock. Similar camps sprang up in dozens of cities nationwide and around the world, but patience wore thin, and many camps – including the flagship at Zuccotti Park and in Atlanta, Boston, Chicago, Denver, Los Angeles, Oakland, Philadelphia and Portland, Ore. – were forcibly cleared.
Public officials and police unions have generally defended moves to break up the camps, citing health and safety concerns. They also said that responding to problems at Occupy encampments was draining crime-fighting resources.
Protester lawsuits are now beginning to wend their way through the legal system, and attorneys say more are likely on the way.
The National Lawyers Guild and the American Civil Liberties Union of Northern California sued the Oakland Police Department in federal court in November, saying police and other agencies violated demonstrators' Fourth Amendment rights by using excessive force – including "flash-bang" grenades – against demonstrators who posed no safety threat. The suit says officials also violated their First Amendment rights to assemble and demonstrate.
Oakland Mayor Jean Quan on Wednesday announced an independent investigation into the police response.
In Austin, Texas, this week, a federal judge has been hearing the case of two Occupy protesters who were arrested and later barred from City Hall under a policy their attorneys call overly broad and say amounts to a ban on speech. The Texas Civil Rights Project says around 106 people have been banned since the protests began, in some cases for up to a year. The policy says a criminal trespass notice may be issued for "unreasonably disruptive" conduct.
Yvette Felarca is among those suing campus police and administration officials at the University of California, Berkeley, after officers forcefully dispersed a group of Occupy protesters and others rallying for public education last month.
Felarca, a middle school teacher and organizer with the civil rights organization By Any Means Necessary, which filed the suit, says she was standing, arms linked with other demonstrators', before a line of police officers who moved in after some tents were set up on a lawn. She said she was chanting and yelling when a police officer hit her in the throat with his baton. She said she was also hit in her ribs, abdomen and back and watched others bear repeated blows.
"The brutality was absolutely designed to chill the speech of students in the movement and literally try to beat and terrorize our right to criticize, to think critically and to act on that criticism," Felarca said.
The university has called it "disconcerting" that the suit contains "so many inaccuracies."
Sobel, of the National Lawyers Guild, said a lawsuit is also planned in the case of the pepper-spraying by campus police of peaceful protesters at the University of California, Davis, video footage of which went viral.
Donna Lieberman, executive director of the New York Civil Liberties Union, called the lawsuits an important check on police power. She noted that authorities haven't been uniformly excessive around the country, but pointed in New York City to mass arrests on the Brooklyn Bridge – which are under litigation – as well as the pepper-spraying of several women and the dark-of-night breakup of Zuccotti Park.
She said that her group has been concerned for years about police tactics, but that the response to the Occupy movement shines a light on them in a way that "engages and offends a new sector of the public."
She predicted there will be other lawsuits about excessive force, civil rights violations and mostly likely people's rights to get back into Zuccotti, which she said police have blocked from public usage with their pens.
"I think what's been happening with Occupy is so reminiscent of what happened during the Republican National Convention" in 2008, she said. "When people get together to engage in that most American of pastimes – protest – it almost always generates a defensive and repressive response from law enforcement. Occupy is no exception."
Gene Policinski, executive director of the First Amendment Center in Nashville, Tenn., said police overreacted to the Occupy movement in some cities, which probably earned protesters some new support. Still, he noted, protesters' First Amendment rights are not without limitation.
"We've always had to balance our rights," he said. "No one can really claim you have an unfettered unlimited First Amendment rights. The courts are there to say, wait a minute, that goes too far, or that's OK. It is part of that give and take. Of course we all wish our rights were never intruded upon."
___
Niedowski reported from Providence, R.I. Associated Press writer Deepti Hajela in New York contributed.
Related on HuffPost:
Here are the 10 most memorable moments of the Occupy protests:
Protesters Begin Encampment At Zuccotti Park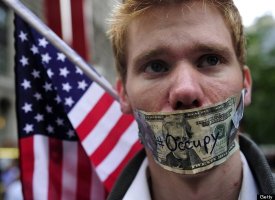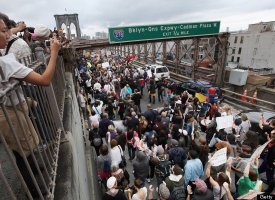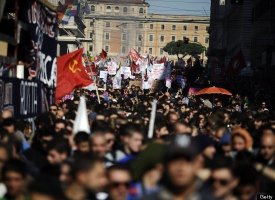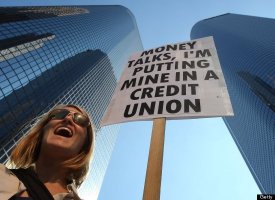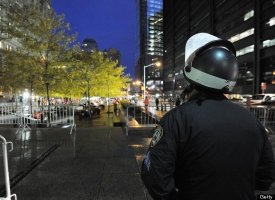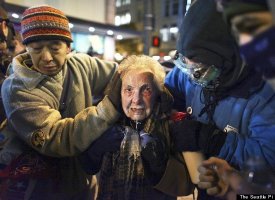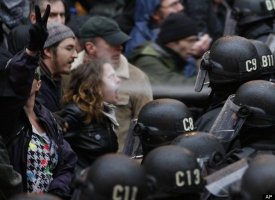 Via HuffPost Miami:
When an Occupy Miami member offered evicted protestors vacant apartments in a building he owns in Downtown Miami's Overtown neighborhood, it seemed like the perfect solution: the 'Peace City' space would provide headquarters for the movement and shelter a small faction of the group's most vulnerable members. But it hasn't gone well. Other tenants say the building has become a cesspool of drug use and violence while non-resident Occupy Miami members are trying to distance themselves from the 'radicals' -- all while the two factions are wrestling for control over Occupy Miami's social media sites and future plans.
The feud between the Overtown occupiers and more mainstream members has only gotten worse. The two factions are now battling for control of Occupy Miami's social media sites. The movement's main Twitter account recently announced it had been "hijacked by a small, non-consensus group of radical members." The Occupy Miami Facebook page was also temporarily hacked by someone inside Peace City. Meanwhile, the Overtown occupation is slowly driving away more moderate members.

"This is a black eye on the Occupy movement," says Shannon Reaze, an Overtown community organizer and Occupy Miami supporter who is now helping tenants move out of Paz's building. "The violence and drugs going on here are way outside of what I thought Occupy stood for. This place is destabilized."

...The supposedly hard-core activists here spend their days drinking and getting high. And as Peace City devolves into lawlessness, the most committed occupiers are leaving. Local landowners and politicians want the place shut down, while cops are suspicious. Yet as long as Paz wants the protesters around, nothing short of a demolition order can keep them out.
Subscribe to the HuffPost Money newsletter!