Ex-Con With 'Nervous Colon' Robs Bank After Pooping In Parking Lot
A Connecticut man with a drug addiction and a spastic colon allegedly defecated in the parking lot of a New Milford bank before robbing the establishment. The man's wife and kids were with him and sat in the getaway car, police said.
Russell Mace, 55, was arraigned in Bantam Superior Court Monday, charged with first-degree robbery, third-degree larceny and two counts of impairing the morals of a child. Judge Richard Marino set Mace's bond at $100,000 and ordered him to appear in court again on Jan. 4.
Mace's charges stem from a bizarre bank robbery that occurred on the afternoon of Dec. 16 at the Union Savings Bank on East Street in New Milford. While the robbery itself was par for the course, police said that Mace's alleged activities prior to the heist were far from normal.
"It's a first in my career," New Milford Police Lt. Lawrence Ash told The Huffington Post.
CASE PHOTOS: (ARTICLE CONTINUES BELOW)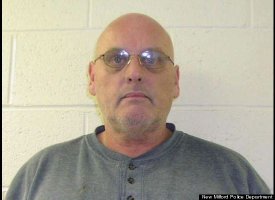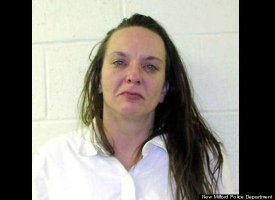 Minutes before the robbery, a female witness saw Mace exiting a white Toyota Camry that was in the bank parking lot. Afterward, he squatted down and began "pooping," the witness said according to the arrest affidavit.
"The customer told me that the man was going to the bathroom and [said] 'he's not doing what you think he's doing,'" the teller told police. "The customer said he's doing a number 2, and he's not being discreet."
After allegedly finishing the bowel movement, Mace, dressed in a hooded sweatshirt and sweatpants, headed for the bank entrance.
"Before they had any time to react to what was occurring outside, the accused robber entered the bank and demanded money," Ash said.
Mace, whom a male teller later described as "sweating" and "nervous," allegedly put his hand in his pocket and said: "This is a robbery. Give me all your money. Don't include any singles ... and don't do anything stupid."
The pooping bandit was given more than $3,000 in cash. Money in hand, he exited the bank and got into his waiting getaway vehicle, where his wife and two children, ages 1 and 4, were waiting, police said.
It did not take long for investigators to come up with a suspect in the case.
"He was identified by bank surveillance images," Ash said. "Some of our officers recognized him from prior contact."
That prior contact occurred on Nov. 23, when someone snatched a purse containing $80 in cash and several credit cards from a woman in the parking lot of a New Milford store. The woman told police a car had pulled up next to her shopping cart and that a woman reached out the window and grabbed her purse. Using surveillance camera footage, police were able to trace the car's license plate to Mace's wife, Erin Mace, 35.
In November, Police went to the Maces' apartment on two separate occasions -- once on the Nov. 23 and once on the Nov. 26 -- to question the couple. During the first visit, Russell Mace denied that he or his wife were involved in the purse snatching.
"We were not there," he told police. "I don't care if God said so."
During the second visit, the couple's 4-year-old child asked the officers, "Are you going to arrest my daddy?" The child then blurted out, "Daddy didn't take the purse ... my Mommy did. ... She took it right from the fat lady," the police report stated.
The Maces agreed to come to police headquarters for further questioning. When they failed to show up, a warrant was issued for their arrest.
Once police had identified Russell Mace as the man in the bank surveillance footage, they pinged the location of the cellphone that he had listed in the prior police report. They successfully traced the phone's location to a New Britain drug store.
In custody, Russell Mace refused to speak with police.
"He has not offered any explanation for any of his actions," Ash said.
According to the News Times of Danbury, Russell Mace suffers from "nervous bowels." The newspaper also said he has a prior criminal record in Connecticut. Mace reportedly served time in a federal prison for a 1989 bank robbery.
Erin Mace told police she didn't know her husband had planned to rob the bank. "I thought Russell might have had to cash a check," she told police. She said it was not until he got in the car and pulled out a handful of cash that she was aware of what he had done.
"At this point, I had a pretty good idea that he robbed the bank," she told police.
Investigators recovered $2,777 of the stolen loot. Erin Mace told police that she and her husband had used a portion of the money to purchase heroin, medication and food for the children.
"Russell is not a violent person," Erin Mace told police. "He never had a gun and would never be violent towards another person. Russell robbed the bank out of desperation. Russell was just doing it for the family."
Erin Mace was charged with third-degree burglary from a vehicle, fifth-degree larceny and risk of injury to a minor. Authorities are still weighing potential charges against her in relation to the bank robbery. She is being held on a $18,000 bond.
Court records do not list an attorney for either of the Maces. According to Ash, the couple's children are in the custody of the Department of Children and Families.
DUMB CRIMINAL PHOTO GALLERY

Loading Slideshow
Dylan Edward Contreras

Dylan Edward Contreras. 19, was arrested for providing false information about his identity after an encounter with Twin Falls police. Police then noticed that Contreras had his last name tattooed on his arm. He was arrested on three outstanding warrants.

Thomas Robert Harter

Man Jumps Off Bridge To Avoid DUI Test.

Treavor Barnes Gladstone

Trevor Gladston Jr., 39, of Atlanta is accused of passing a note to a teller that said, "Give the money now or we start to shoot," at the Wells Fargo Bank in the 5400 block of Peachtree Boulevard around 12:30 p.m. Wednesday. The suspect left the bank without any money after the teller stepped away from the counter behind its bullet-resistant glass, Chamblee police said.

Ohio man Samuel Cole allegedly stomped on his girlfriend's chest so hard that her breast implant burst in February, 2012. Cole eventually took the woman to a hospital, but told her not to tell anybody at the hospital about the attack, according to the police report.

Ramon Blair

A Martin County sheriff's deputy in Florida arrested Ramon Blair, 28, based on tips from informants that Blair would have hundreds of dollars of crack cocaine "on his person." An initial search turned no results, but a more thorough search while in custody revealed that Blair had hidden the crack in, well, his crack. Blair was told to undress, squat, and cough -- and police found what appeared to be a white piece of paper in his buttocks, which contained crack cocaine.

Thomas Mills

Thomas Mills, 74 was arrested for prostitution in Myrtle Beach, S.C.

Evelyn Marie Fuller

Evelyn Marie Fuller, a toothless 49-year-old woman from Pennsylvania, was arraigned on two counts of bank robbery in January. Her motive: She needed money for dentures, cops say.

Cops in Logan, Utah, say they brought an extremely intoxicated man to the hospital on Jan. 20. They put him in the care of 46-year-old hospital worker Hal Weston. When they returned minutes later, Weston was allegedly performing oral sex on the blacked-out patient. He was arrested on charges of forced sodomy.

Russell Christopher Hofstad

Russell Christopher Hofstad is accused of skinning and eating a cat.

That's Mr. Beezow Doo-Doo Zopittybop-Bop-Bop to you. The man with the amazing name was born Jeffrey Drew Wilschke. He changed his name in October 2011, but got in trouble with Madison, Wisc. police on Jan. 5 when he was arrested for alleged possession of a knife, marijuana, and drug paraphernalia.

Flaming Tampon Tossers

Patricia Deshong, 25, and Quentin Deshong, 22, were arrested Jan. 7 in Metal Township, Penn., after attempting to blow up a vehicle using flaming tampons. The incident took outside of a bar and, as a result, the duo were arrested on a variety of charges, including attempted arson, public drunkenness, and criminal mischief.

Ray Lynn Mitcham Jr.

Ray Lynn Mitcham Jr., of Linden, N.C., was arrested Jan. 9, 2012, in Cumberland County, N.C., for crime against nature with a dog. Debbie Tanna, spokeswoman for the Cumberland County Sheriff's Office, said Mitcham's next door neighbor went to speak with him Jan. 2. The neighbor, who is also Mitcham's landlord, told detectives she opened the door to his mobile home and saw him attacking her dog. The mixed-breed female was taken to a veterinarian, who recovered a DNA sample. Tanna said Mitcham was arrested Monday after his DNA profile matched the sample recovered from the dog.

Oneal Morris

<a href="http://www.huffingtonpost.com/2011/11/20/butt-implants-fake-doc_n_1103933.html" target="_hplink">Oneal Morris</a> is accused of posing as a doctor and filling a women's buttocks with cement, mineral oil and flat-tire sealant. The woman wanted to work at a nightclub and searched for someone who could perform plastic surgery at a cheap price to give her a curvier body. Police say Oneal was was born a man but identifies as a woman.

Man Allegedly Steals Ambulance

Hubert Lee Credit was beat up by four guys, had a puncture wound on his forehead, and needed to go to the hospital. That's why he allegedly stole an ambulance near his Tampa home. He got treatment and was later taken to jail.

Skeleton In The Passenger Seat

A Washington motorist was busted for making a boneheaded decision -- he put a skeleton in the passenger seat so he could drive in the HOV lane.

Darrin Porter

An Alcoholics Anonymous meeting isn't the right venue for show and tell. Darrin Porter, 45, was charged with disorderly conduct and obstructing official business after he allegedly crashed an AA meeting while drunk and carrying a can of beer.

John Robin Whittle

John Robin Whittle wouldn't let a good beer go to waste, police say. The 52-year-old ordered a beer at a bar, left to rob a bank, then returned to the watering hole to finish his brew, investigators in Pasco County, Fla. allege.

Timothy Randall Clark

Timothy Clark probably didn't think his plan through when he allegedly shoplifted from a Wal-Mart at the same time that police were holding their "Shop With A Cop" charity event.

William E. Robinson

William E. Robinson, 66, was charged with reckless conduct and discharging a firearm on someone else's property after he allegedly opened fire on a tree outside a shopping mall with a shotgun in an attempt to knock down a sprig of mistletoe. Robinson reportedly told authorities in Decatur, Ga., that he always gets ready for Christmas by shooting at mistletoe and was surprised that he was being taken into custody.

Dannial Ashley

Supermarket employees in Florida call the cops after they caught Dannial Ashley with a romantic dinner stuffed down his pants.

Shawn Weimer

Shawn Weimer, seen here with his nine-year-old daughter at a suburban Detroit gas station on the night he let her drive after he'd been drinking, admitted in court it was "a mistake" to use her as a chauffeur.

Ella Jo Price

During a stop for an alleged traffic violation, sheriff's deputies in South Carolina seized two crack pipes that Ella Jo Price had allegedly hidden in her private parts: One was concealed in her crotch and the other was stashed in her buttocks, deputies said.

Heather Lynn Mayo

Heather Lynn Mayo called police looking for help to get her unwanted boyfriend out of her Florida apartment, but she wound up getting arrested. Her significant other clued cops into the alleged fact that Mayo was the driver in a deadly hit-and-run accident in February.

Shakir Taylor

They say criminals often return to the scene of the crime -- perhaps that's especially true for those who live on the same block as the scene of the crime. Police say siblings Shakir Taylor, pictured, and Kadija Taylor robbed a bank on the same Forestville, Md. block where they reside.

Ruth Wagner

Wagner was arrested in Southington, Conn. after allegedly stabbing a woman with a Christmas ornament while fleeing from a craft fair vendor that accused her of shoplifting. The victim tried to block Wagner's escape, but was slashed with a seashell decoration by the fleeing thief.

Gwinnett County, Ga. police say Trevor Jones broke into a home, then used the victim's laptop to log into Facebook. The problem for Jones, allegedly, was that he forgot to log out before he left.

LB Williams

A Panama City mixed-race married couple found a cross burning in the driveway of their home. A few days later, two threatening notes filled with racially abusive language and signed by the "KKK" were found taped to the house, according to reports.<a href="http://www.huffingtonpost.com/2011/11/16/lb-williams-black-florida_n_1098306.html" target="_hplink"> LB Williams</a>, the husband, eventually admitted to setting the fire and posting the notes, so his wife of almost seven years would drop her divorce filings.

Olivia Ornelas

Police in Illinois say that Olivia Ornelas blamed her DUI and crashed vehicle on her boyfriend's failure to take her, as he promised, to the new "Twilight" movie.

Joshua Andre Pee

Police arrested Joshua Andre Pee and claimed he plotted with a teenage friend to fake the 17-year-old's kidnapping in Florida from a celebrity tennis tournament. When Delray Beach police and FBI agents found Pee holed up in a Budget Inn hotel two days later, he fled and broke into a home, trying to hide. He was charged with burglary and resisting arrest.

Ranaldo Jack

Authorities in Georgia found Ranaldo Jack stuck in a woman's chimney. He was charged in connection with an attempted burglary.

Tina Arie and Howard Windham

Tina Arie and Howard Windham allegedly got frisky in the backseat of a patrol car taking them in on drug charges. Even though their hands were shackled behind them, Windham's pants were unbuttoned and lowered, allowing Arie to perform oral sex. The deputy ordered them to knock it off and they weren't hit with any additional charges.

Marsia Emanuel

Marsia Emanuel allegedly flagged a school bus in Winter Haven, Fla., boarded and beat the bus driver in front of her daughter, a student riding it already. Cops found Emanuel later at home where she dropped her underpants in front of them, they said. It's unclear what was her motive.

Bug Spray Bandit

Investigators in California are trying to track down a man who robbed a bank armed with pesticide. The suspect appeared to be carrying a black semi-automatic handgun and a plastic container of pesticide when he held up the Pacific Western Bank in Rancho Santa Fe on Nov. 4, 2011.

Dorothy Desjardins

Police say that 87-year-old Dorothy Desjardins shot her elderly husband, Peter, after suspecting him of having an affair with her hairdresser.

Karen Henry

Police in Florida arrested Karen Henry, 45, after she allegedly threatened her 80-year-old father with a knife for not sharing his potato salad.

Gregory Liascos

This camouflage might work well in nature, but it really stands out in the police station. Oregon investigators believe Gregory Liascos, 36, was wearing this "ghillie" camouflage when he attempted to break into the Rice Northwest Museum of Rocks and Minerals last week. After setting off alarms, the suspect allegedly fled into a wooded area nearby. Officers only found Liascos when a police dog bit what appeared to be a patch of grass -- which yelped in pain. On Oct. 12, 2011, authorities said Liascos failed to show up for his trial. A warrant has been issued for his arrest.

Joseph Wilson

Police arrested Joseph Wilson for the hundredth time after he allegedly stole $174 worth of socks and underwear from a Bealls department store in Port St. Lucie Florida.

Albert Tejeda

Sheriff's deputies in Pinal County, Ariz., say Albert Tejeda's unique tattoos -- and his lengthy rap sheet -- leave him with a face they'll never forget. After Tejeda allegedly fled during a traffic stop, deputies claim they knew exactly who they were looking for and later found the 31-year-old walking around Casa Grande with a samurai sword.

Ian Stuart Wood

Florida police arrested Ian Stuart Wood at his home in East Naples after he allegedly choked his wife over a heated game of Yahtzee.

Melissa Barbara Minarsich

Police in Iowa City, Iowa have accused 28-year-old Melissa Barbara Minarsich of attacking her boyfriend after he refused to have sex with her.

Wilnelia Caraballo

Police say Wilnelia Caraballo attempted to rob a convenience store using a toy gun, but found herself on the ground when one of the clerks yelled "Palm Bay police. Get on the ground!"

Ashton Graham allegedly used an inhaler to steal two cases of beer before slamming his head through a police cruiser windshield.

Juan Aguirre

Even if Juan Aguirre got away, he would have ended up empty handed. Police said the 21-year-old Kansas stole six empty DVD boxes from a local adult entertainment shop.

Alicia Ducharme

Police arrested Alicia Ducharme after she allegedly poured cucumber salad over an elderly man's head.

Shania Sutherland

Sutherland was arrested when her drug deal got interrupted by her three-year-old who fired a 12-gauge shotgun through the roof of a car in Marietta, Ga. on Sept. 6.

Terry Kimball

Police arrested Kimball for misuse of 911 after the 50-year-old Florida man called the cops in hopes of forcing a Taco Bell to serve him a midnight snack.

Daphne Melin

Daphne Melin A 32-year-old Long Island woman was busted after egging on two 12-year-old girls to fight outside an elementary school and then beating up a child who was watching nearby. Daphne Melin, of Shirley, encouraged the juvenile dust-up outside William Floyd Elementary School on Sunday afternoon, Suffolk County cops said.

Francisco Rojas

Police were called to Francisco Rojas' home by his wife who complained that her husband was drunkenly trying to pull out his own tooth. In the end, Port St. Lucie cops arrested Rojas for breaching the peace because he repeatedly cursed at them despite warnings to calm down.

Kandice J. Child

Kandice J. Child is seen in this booking photo from the Oxford County Jail. Child and her 15-year-old son were involved in an altercation when her son bit his high-school principal, drawing blood.

'Vampire' Josephine Smith

Josephine Smith is seen in this booking photo from the Pinellas County Jail. Smith was arrested after allegedly attacking and biting a piece of skin off a homeless man in St. Petersburg after proclaiming "I am a vampire, I am going to eat you".

Julio Socarras Mompeller

Julio Socarras Mompeller allegedly exposed his genitals through a sunroof in the Florida Keys.