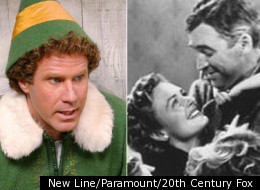 This Christmas, gather your family around the fire... and then bring your TV and place it right next to the burning yule log. You've got a lot of movie watching to do!
While the studios have films from Tom Cruise, Steven Spielberg (two!) and Matt Damon out in the multiplex, the cheaper, more traditional alternative is to sit back and watch classics such as "A Christmas Story," "Miracle on 34th Street" and "Elf." Yes, "Elf" is now a classic. And now, as you watch these films, you can impress your family and friends with lots of little known trivia. Knowledge: it's the greatest gift of all (if you can't get those new Air Jordans that everyone has been going crazy over).
We've dug up some of the most interesting trivia about some of the greatest Christmas films, including Steve Whitmire's story about his supernatural interaction with Jim Henson. Whitmire, who took over as the voice for Kermit the Frog upon his mentor Henson's passing in 1990, told MuppetCentral.com that he was terrified to record the songs for "The Muppets Christmas Carol," which he considered his first true experience as Kermit. The night before he was scheduled to do so, Henson visited him in a dream.
They were at a hotel, where Henson was working the desk. Whitmire -- in the dream -- told Henson that he was nervous to do the voice.
"He stopped, and there was a thoughtful gesture Jim would do where he would take both of his index fingers and put them under his chin, and he did that and thought and he said, 'It will pass,'" Whitmire remembered. "Which is exactly what Jim would have said. You would have to really know Jim to know this, but that's exactly what he would have said. Then he turned and he said, 'I've really got to run...' and he took off out the door."
Check out the slideshow below for more facts. From the overly passionate kiss of "It's A Wonderful Life," Will Ferrell's secret Santa past, the true story of the gangster film in "Home Alone" and more, these oddities will help you be an expert tonight.
Christmas Movies: Little Known Facts
While it's now seen as a wholesome family standard, the film didn't have its small bit of controversy. James Stewart was so nervous to perform the kiss with Donna Reed (it was his first post-war film kiss) that after a night of worrying, Frank Capra had them do it all in one take -- and then had to edit out part of the smooch because it was too long and passionate to pass the censors of 1947.

Will Ferrell portrays perhaps the friendliest, most lovable elf (or, giant dude masquerading) in film history in this 2003 movie. But while he was just Santa's helper in this recent classic, he does have experience playing St. Nick himself. "(When) we were in The Groundlings together, Chris Kattan was my elf at this outdoor mall in Pasadena for five weeks, passing out candy canes. It was hilarious because little kids could care less about the elf. They just come right to Santa Claus," Ferrell told SplicedWire in 2003. "So by the second weekend, Kattan had dropped the whole affectation he was doing and was like (Ferrell makes a face of bitter boredom), 'Santa's over there, kid.'"

"A Christmas Story" is based on the novels and short works of writer Jean Shepherd. Many of those short works were first featured in Playboy Magazine. Because the studio wanted a 90 minute cut to make it easy for theaters to keep the film on a screening loop, several scenes were cut from the film. Included in the list is a Ralphie fantasy that involves Miss Shields going to his house and telling his parents how fantastic he is and how lucky they are to have him. The sequence continued with the even more fantastical scene of Ralphie rescuing Flash Gordon from Ming the Merciless on the planet Mongo. You can read the scene in its entirety here.

It's a classic in and of itself, but there's another little film tucked into this festive family treat. The gangster film that Kevin watches (and uses to scare the pizza guy) is called "Angels with Filthy Souls," and it's a parody of the Humphrey Bogart film "Angels with Dirty Faces." On the 2006 DVD release, the footage from the few snips of scenes of the fake gangster flick that were made for "Home Alone" were compiled into one little feature. In "Home Alone 2," they made another fake film: "Angels with Even Filthier Souls." Keep the change, ya filthy animal.

Tim Allen's first run as the accidental Kris Kringle is 99.9% family friendly. So of course, that .1% that got one kid in trouble. A woman in a Washington state suburb complained that her son dialed 1-800-SPANK-ME, a number that was given as a joke from Wendy Crewson (Laura) to Allen's Scott Calvin. Turns out, it was a real phone number, and ended up costing the family $400 in phone bills. It was later changed in another print to 1-800-Pound, and then cut out of the DVD altogether.

The black and white heart warmer "Miracle on 34th Street" will forever tell the tale of Santa Claus's ability to bring magic not just to children, but warring retailers. But though they shake hands in the movie, Macy's and Gimbel's really were across-the-street rivals in New York City. The plot point changed a bit by the 1994 remake, which saw Macy's compete with the fictional Shopper's Express. Why? Because Gimbel's had closed down by 1985, the ultimate loser of the department store war. But if you're in New York and in search of a wink from Christmas past, look up and closely: on 31st street and 6th avenue, you can see the faded remains of the Gimbel's sign. And if you aren't in New York, check out the 2003 film, "Elf." Director Jon Favreau paid $5k to use the name for a sense of authenticity.

A romantic film about a young, charismatic British leader would certainly appeal to former British Prime Minister Tony Blair, no? In fact, he loved it so much that, in a joke re-creation of the film, his staff had Martine McCutcheon, the woman who plays the tea lady with whom Hugh Grant (as the fictional leader) falls in love with, to deliver PM Blair his own cup of tea.