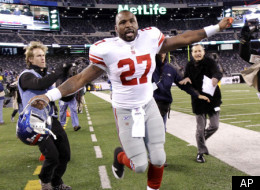 There was plenty of trash talk before the game. I would assume there was plenty of trash talk during the game. And of course, there was plenty of trash talk after the game.
Following the Giants' win over the Jets in the Battle of New York, Giants running back Brandon Jacobs had some harsh words for Jets head coach Rex Ryan, telling ESPN that he 'is a very disrespectful bastard."
"I'm glad we came out here and gave it to him," he said. "I wish I could have got a change to go over there on that sideline, but I never got a chance to get over there. That's just how they do things. They're disrespectful."
According to several reports, there was a brief altercation between Jacobs and Ryan as well.
Jacobs also told the New York Daily News that he told Ryan to "shut the f*** up" (via ProFootballTalk). He also said Ryan responded by yelling, "Go f*** yourself."
"I said I would punch him in his face," Jacobs said, per Newsday. "I told him, 'Out of all of these Giants football players on the team, you're talking to the wrong one."
However, according to Mike Garafolo of the Newark Star Ledger, Jacobs told Ryan, "It's time to shut up, fat boy."
Ryan didn't have much to say on the exchange.
"We had a private conversation," Ryan said. "That's all I'll leave it as. Whatever. He doesn't like me. I respect him, but I could care less about him."
Perhaps the loss caused Ryan to take the high road when talking to reporters. Earlier in the week, Ryan spoke to the media on a conference call and said that the Jets had "clearly" been the better team during his first two years with the team.
"I never came here to be little brother to anybody. So, it's on," he said.