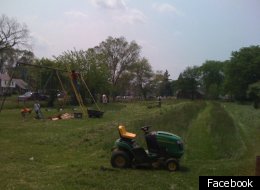 Do you get a thrill from lawnmowers (or other things that go)? Do you like to hang out and drink beer? Do you think kids should have safe, clean parks to play in?
If so, then you understand the simple secret behind a group that is making a powerful, positive impact Detroit's landscape: You can do something you enjoy and help people at the same time.
Tom Nardone started the Mower Gang in 2010 when he was looking for a way to give back that would also be social.
"I thought to myself, I have to do some volunteer work, but I have to do something that fits me," he said.
So Nardone started the Mower Gang shortly after Mayor Dave Bing proposed closing 77 city parks as part of a larger plan of budget cuts. From the beginning (see this this inagural website post), the Gang has been just as much about having a good time as addressing a critical need:
I am forming a group of people to help keep the unmowed areas of Detroits Parks from falling further into disrepair. Don't get me wrong, this will not be a group of goody-goodies. This will be an outlaw group that does what it wants, when it wants. The only difference between us and the Hells Angels is that we will ride lawn mowers and smack-down grass and weeds.
Nardone quickly saw interest from friends and strangers, and a small group started going out for a few hours a week to mow.
One of the Gang's early projects was discovering -- and fixing up -- the velodrome, a bike-racing track at Dorais Park at Mound and Outer Drive. The discovery inspired Andy Didorosi, a Mower Gang volunteer, to start the Thunderdrome, a racing event that brought all sorts of two-wheeled vehicles to the park, and simultaneously recruited more volunteers for the Gang.
In March 2011, Nardone held a road rally, where people competed in a scavenger hunt that also helped the group collect information about 90 parks and their surrounding communities, so members can mow where they are most effective.
"The goals are fixing up parks that kids use," Didorosi said. "So it's totally a children-based thing."
For the most part, volunteers bring their own mowers, though the group owns a few and other supplies. They have spent about $2000 buying and fixing up second-hand mowers.
The City of Detroit knows of the Mower Gang and has occasionally helped with specific projects, but the group operates independently.
"If you went through all the proper channels you would get absolutely nothing done," Didorosi said. "We get that that's how the city has to work, but we try to figure out what works best for everybody."
This year, the group targeted one problem across many parks: a lack of swings for old swingsets. They counted 200 that needed to be replaced. Through a crowd-funded campaign on Kickstarter, they raised more than $3000 -- at $80 a swing, that's 37 swings.
"The park is one of the bright moments in childhood," Didorosi said. "You learn there, you play there, thats your jam. And if your park is dangerous, overgrown or unusable, well ..."
Nardone does minimal organizational work for the Gang through the group's Facebook page, where long-time volunteers and new ones can get information. For Nardone, it's all about simplicity.
"You dont have to sign up, you just show up."
* * * * *
As 2011 comes to a close, HuffPost Detroit looks to honor those who made an impact in our city this year. The 2011 Detroit Impact series will profile one organization per day until the end of the year. There are 11 organizations included in the series (see them all in the slideshow below), but there are dozens more doing good in and around Detroit. For full coverage of the people and organizations helping others, visit HuffPost Detroit Impact.
Student Mentor Partners makes private school accessible for at-risk youth in the Detroit area. The group supports more than 35 boys and girls in 11 private high schools and is dedicated to helping "the academically average or marginal student who, without proper guidance and support, may 'fall through the cracks,' become frustrated with school, and eventually drop out." Read more about Student Mentor Partners here.

InsideOut works in Detroit Public Schools to bring creative expression to students and offer its fellow an opportunity to connect with kids through the arts. "By immersing students in the joy and power of poetry and literary self-expression, InsideOut inspires them to think broadly, create bravely and share their voices with the wider world. Guided by professional writers and celebrated by publications and performances, youth learn that their stories and ideas matter and that their pens can launch them off the page into extraordinary lives." Read more about InsideOut here.

St. John Hospital and Medical Center is in the process of creating a program unlike anything else in Michigan that will give much-needed support to breastfeeding mothers. The St. John Mother Nurture Project, funded by a three-year, $1.2 million grant from the W.K. Kellogg Foundation will provide support for mothers and babies and education for mothers and doctors. The hospital will work with city organizations on community outreach, which is particularly important, as over half of Detroit women do not ever breastfeed, compared to the national average of 75 percent. "What we're trying to do is change widespread community perception about breastfeeding," Paula Schreck, M.D., medical director of breastfeeding medicine, said in a statement. Read more about the St. John Mother Nurture Project here.

The Detroit Mower Gang's members are taking community spaces -- and community horticulture -- into their own hands. A roaming group of park and lawn enthusiasts mow abandoned parks that the city no longer maintains, making them usable for children. Why should you join this group, which takes one simple idea and turns it into a noticeable difference for communities? The Mower Gang lays it out on their website: "Because lawnmowers are cool and fun, Because people need us, Because no one else is going to get the job done. You will enjoy joining the Mower Gang if you want to feel the wind in your hair, you like the feeling of a job well done, you enjoy the sound of internal combustion in your ears and the smell of fresh cut grass up your nose." Read more about the Mower Gang here.

The Thrive Detroit street newspaper provides a way for those who are homeless or vulnerably-housed to become micro-entrepreneurs and begin to participate in Detroit's entrepreneurial boom. The paper provides a platform for community news and information as well as an income-producing product to be sold. Read more about Thrive Detroit here.

When long-time community group Eastern Michigan Environmental Action Council moved into their new space in August, everyone benefited. The First Unitarian-Universalist Church was struggling to maintain its large building at Cass and Forest, so the church put out a call for applications for people to take it over, on the condition that the congregation could still meet there. EMEAC's community-building idea for Cass Community Commons won UU over. "Our vision is to transform the UU space into a multi-use facility and Detroit grassroots organizing hub," EMEAC Director Diana Copeland said in a statement. The Cass Community Commons has many groups on or planned for its roster, including The Sugar Law Center, the Detroit Grassroots Cultural Arts Center, the People's Kitchen Detroit, the Detroit Media Arts Cooperative, Whole Note Healing Space, Fender Bender Detroit and the Blair Theatre. Read more about Cass Community Commons here.

Michigan Community Resources (previously known as Community Legal Resources) delivers free legal, planning and educational services to nonprofit organizations throughout Michigan that serve low-income individuals and communities, with an emphasis on community economic development. They support these organizations by providing pro bono legal services and technical assistance. The 13-year-old organization just changed its name in an effort to broaden its scope. Read more about Michigan Community Resources here.

It seems like a simple idea: Roadways should be safe for all users, whether they drive, ride public transit, bike or walk. But Detroit is the 12th-most dangerous area for pedestrians in the country and has a long way to go. That's where the Detroit Complete Streets Coalition comes in. The local arm of the national organization has been working to make the Motor City friendly to walkers and bikers since 2010. The Coalition is one of the projects of the Detroit Food & Fitness Collaborative and has support from groups across the region, including city departments. So far, Complete Street renovations in Detroit have been completed or are in progress on Third St. in Midtown, Saint Jean St. on the near east side, along Michigan Avenue, and in the Conner Creek neighborhood. Read more about the Complete Streets Coalition here.

The Detroit Digital Justice Coalition has a rock-solid guiding principle: The group is working towards digital justice, bringing media and technology into education and championing digital access for all, particularly for those who have traditionally been excluded from technology. From Discovering Technology workshops to implementing community wireless Internet networks, the DDJC helps people of all ages access Internet and technology to access information, tell stories and strengthen communities. The DDJC, which started in 2009, includes several organizations that strive for digital justice. In August 2010, the coalition received $2 million in federal stimulus grants to improve community organizing and economic development. Read more about the Detroit Digital Justice Coalition here.

Black Male Engagement (BME or "be me") launched in August. It's aim is to offer support and positive reinforcement to black men who are active in their communities. The program is currently piloting in Detroit and Philadelphia, sponsored by a grant from the Knight Foundation and Open Society Foundation. The program took nominations for black men and boys engaged in their communities. Those who made it were then eligible to apply for grants up to $50,000 to continue their community work. The list of Detroit nominees is long and varied, and includes City Council Member (and former interim Mayor) Ken Cockrel Jr., ballroom dance instructor Charl Washington, barber Deon Coleman, and pastors and deacons from around the city. The grant round winners will be announced in early January.

According to founder Gloria Lowe, a former auto worker, her organization's mission is "to re-educate, retrain and rebuild a 21st century, sustainable Detroit." To do so, We Want Green, Too builds teams and teaches basic construction skills, including dry walling, painting and floor repair. They tackle Detroit's vacant and abandoned buildilngs. The group is providing jobs and renovating Detroit's housing stock at once. "We know that the greenest house is the house that's already there. All you do is take the time to rebuild it," Lowe says.