Giants vs. Jets LIVE UPDATES: Eli Manning, Mark Sanchez Square Off In Battle For New York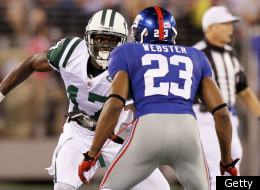 The Battle for New York. Big Blue against Gang Green. Rex Ryan against Tom Coughlin. Mark Sanchez against Eli Manning. Sunday's Week 16 game between the Giants and the Jets will certainly be a slugfest with plenty of playoff implications. The Jets (8-6) hold one of the AFC Wildcard slot with Cincinnati, Oakland, San Diego and Tennessee behind them. The Giants, however, are 7-7 and have to win the NFC East to make the playoffs.
So who do you think will win the Battle of New York? Will the Jets back up Rex Ryan's talk? Or will the Giants, who made plenty of trash talk of their own this week, stay in the hunt for the postseason?
Stay tuned here for live updates throughout the game and tweet to @HuffPostSports to join in the conversation
The Giants survive a poor first half thanks to one big play and then find their game in the second half to stay on track for playoff spot.