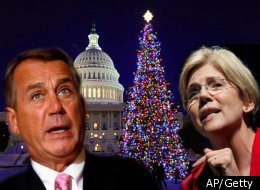 It's been a tumultuous year in the political world. Congress became more unpopular than ever, the Occupy movement captured the hearts and minds of many Americans, and sex scandals of all stripes became public.
As 2011 comes to a close, here's a look back at who has been good this year -- and who should be expecting a lump of coal.
2011's Naughty Or Nice List
In May, Rep. Anthony Weiner (D-N.Y.) publicly tweeted a sexually explicit photo of himself, intended as a direct message to a 21-year-old college student. Weiner initially claimed that his account was hacked, but more women came forth with similar photos. Weiner eventually resigned in June, admitting he had engaged in inappropriate exchanges with a number of women via Twitter.

Warren's vision of a Consumer Financial Protection Bureau, designed to enforce transparency and fairness in financial services and look out for the public's best interests, came to fruition in July. Although she was passed over to lead the new agency, the Harvard professor has since started a campaign for Senate in Massachusetts. Warren, a Democrat, is currently ahead of incumbent Scott Brown (R-Mass.) in the polls.

Arpaio, who calls himself "America's Toughest Sheriff," has gained national infamy for his harsh stance on illegal immigration, particularly for his support of Arizona's SB 1070. Following a three-year investigation, the Department of Justice released a report in December detailing instances of racial profiling, discrimination and other civil rights offenses by Arpaio and his office.

Hernandez, the 21-year-old 'hero intern' who worked in Rep. Gabrielle Gifford's (D-Ariz.) Tuscon office, was just five days into his new job when he helped save the congresswoman's life. The University of Arizona student rushed to Gifford's side during the January 8 shooting, applying pressure to her head wound and making sure she didn't choke on her own blood.

Rep. David Wu (D-Ore.) came under fire this summer when the 18-year-old daughter of a top campaign donor accused the congressman of unwanted and aggressive sexual behavior. Wu admitted that the encounter happened, but insisted it was consensual. After House Minority Leader Nancy Pelosi (D-Calif.) called for an ethics investigation, Wu decided to resign.

Mullen, who retired as Chairman of the Joint Chiefs of Staff in October, played a key role in the repeal of Don't Ask Don't Tell, which effectively prevented openly gay men and women from serving in the military. He publicly criticized the longstanding policy, saying that forcing service members to lie was dishonorable.

A week after it was announced that former Gov. Arnold Schwarzenegger (R-Calif.) and his wife of 25 years, Maria Shriver, had separated, the Los Angeles Times revealed that the Austrian actor-turned-politician had fathered the son of his family's longtime housekeeper. Although his illegitimate child was born in 1997, Schwarzenegger did not tell Shriver about his son until after he left office earlier this year. The couple divorced in July.

While Occupy movements in New York, DC, and California get the lion's share of press coverage, a number of smaller protest groups in the South have been working to enact change in their communities. These protesters, profiled in HuffPost's "Occupy Y'All Street" series, range from college students to out-of-work baby boomers.

House Speaker John Boehner solidified his place on the "naughty" list after blocking a two-month extension on the payroll tax cut, set to expire on January 1. Under fire from both the White House and GOP ranks, he finally caved and made way for the House to pass the stopgap measure just before Christmas.

Rep. Allen West (R-Fla.) has quickly become one of the most outspoken freshmen in Congress, making a number of offensive comments about his colleagues. In his first year of office, West has incited a feud with fellow Floridian and DNC Chair Rep. Debbie Wasserman Schultz, called Rep. Maxine Waters (D-Calif.) a "plantation overseer," and compared Democrats to Nazi propagandist Joseph Goebbels.