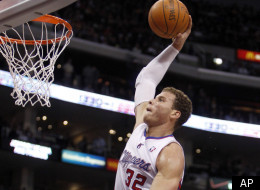 It's time for the new-look Los Angeles Clippers to take the big stage in their first regular season game against the Golden State Warriors. After acquiring All-Star point guard Chris Paul in the shortened offseason, the Clippers gave a brief preview of just how electrifying CP3 and Blake Griffin can be. With the additions of Caron Butler and Chauncey Billups, maybe, just maybe, the Clippers might be the team to watch in L.A.
On the other end, it's also a special night for the Warriors as former NBA guard and ESPN broadcaster Mark Jackson makes his debut as head coach. Despite an injured ankle, guard Stephen Curry plans to play after participating in the pregame walk-through.
So how many alley-oops will we see from the Clippers? 6? 13? Will the Warriors stay strong at home? Or will the Clippers show us more of what's to come?
Stay tuned here for live updates throughout the game and tweet to @HuffPostSports to join in the conversation.
Both teams keep missing shot after shot after shot. Billups missed a on a quick 3-point attempt. Then Klay Thompson missed a running jumper and on the other end, Blake Griffin and DeAndre Jordan must have missed at least 4 shots there. Finally Brandon Rush takes it to the hole and draws a foul. Rush made both free throws to cut the lead to 91-84.