Heat Vs. Mavericks LIVE UPDATES: LeBron James Faces Dirk Nowitzki In Finals Rematch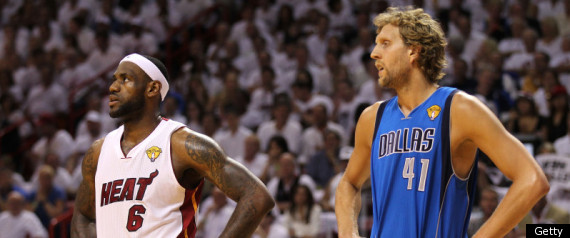 Here we are -- right back where we left off.
It's the Miami Heat verus the Dallas Mavericks.
After the offseason of our labor discontent, the NBA has finally returned with a quartet of marquee matchups on Christmas day. Although the Knicks and Celtics took the honor of starting off the shortened 2011-2012 NBA season, it is the second game of the day that has been the most anticipated. In a rematch of last year's NBA Finals, Dirk Nowitzki and the Mavs host LeBron James, Dwyane Wade, Chris Bosh and the remainder of the Heat.
During a recent interview with ESPN, James discussed how hard it was for him to come to grips with Miami's loss to Dallas. Well, on Christmas, he gets to watch the championship banner be raised to the rafters in Dallas. How will he respond to that?
By leading the Mavs to a thrilling, career-defining six-game triumph, Nowitzki cemented his legacy as one of the top players of his generation. Can he and Jason Terry open this campaign with the same fire that burned so brightly in them during last year's playoffs?
Follow along with all the action right here:

Jason Terry knocks down a long two-pointer and cuts the lead to 21. Then LeBron takes over and drives to the lane, spins and hits the layup while drawing the foul. TECHNICAL called on Delonte West as well. Will that be enough to get the Mavs fans outa there? Doesn't look like it. Mark Cuban screaming from the bench.