Magic Vs Thunder LIVE UPDATES: Kevin Durant And Dwight Howard Battle On Christmas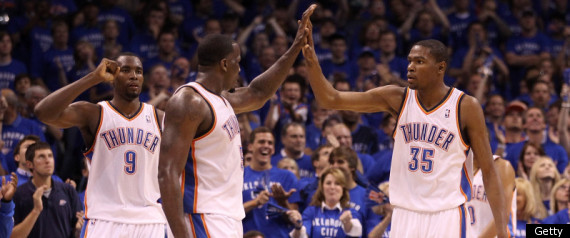 Location, location, location.
The Oklahoma City Thunder are the model small market franchise. Having already quietly signed scoring champ Kevin Durant to an extension while other superstars have been bemoaning their own surroundings, the Thunder are widely considered the "next" team in the West. Unless, of course, Chris Paul's Clippers have anything to say about that.
In the East, the Magic are at the other end of the small -- really a mid-market, actually -- market spectrum, having a high wattage star looking for a brighter stage. Dwight Howard has eyes for Los Angeles and Brooklyn, but will open the season with Orlando. Will he bring his A-game even if he isn't playing for his first-choice team?
The fourth game in the NBA's Christmas spectacular, Thunder vs. Magic features two of the game's most compelling young stars even if it's not taking place in one of the game's most compelling locales. Well, this game actually contains three of the game's best young stars. Please don't tell Russell Westbrook that we left him out initially. He seems like a guy that would take that slight personally.
FOLLOW HERE FOR LIVE UPDATES:
| | |
| --- | --- |
| | @ LukeRussert : Kevin Durant is such a great guy. I've never seen a #NBA guy sign an autograph walking off the court after a game. He makes #DC proud. |