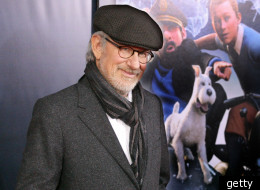 Whether you've been unwrapping gifts from beneath the tree or just enjoying a normal mid-winter Sunday morning, you're probably thinking about the next December 25th tradition: the very non-denominational trip to the movie theater.
Christmas Day provides studios and exhibitors one of their biggest days of ticket sales, and so to entice as many movie fans into the theater as possible, Hollywood has saved some of its most anticipated films for the last two weeks in December. They've also made sure there is something for everyone: whether you're with a bunch of adults seeking a dark tale, a family looking for some thrills or parents with young ones hoping for some warm and fuzziness, the industry has you covered.
So, what should you see today? Here's a guide to the Now Playing marquee. Enjoy the show!
Movies To See On Christmas Day
Steven Spielberg's epic adaptation of the Michael Morpurgo novel, this is the heart-warming tale of a young English farmer, his horse, and the good deeds performed amidst the horrors of World War I. We spoke to the screenwriter and cast of the film, who gave the inside word on what it was like to work with Spielberg, the emotional toll the film took and just how awesome it was to work with horses. Recommendation: A PG-13 film good for the whole family.

Marketed as "The feel bad movie of the Christmas season," David Fincher's adaptation of the hit Stieg Larsson novels certainly has its dark moments. Multiple raping scenes, murder and infidelity mark the film, but at its core its a tale of two people rejected by society thrust into a CSI-style plot. Rooney Mara is the breakout star in this one, playing Lisbeth Salander, and we spoke to her about taking on the iconic part. Recommendation: Don't take the kids, but while it's rated R, it's not the super grisly film some project it as.

Tom Cruise's fourth turn as Ethan Hunt is being hailed by critics as one of his best. A bit surprising, actually, but the action is quite insane. Jeremy Renner joins the cast of the series, while Simon Pegg returns in an expanded role. Recommendation: the whole family will enjoy the action in this one, though the violence is not for little kids.

Spielberg's second offering this season, "Tintin" stars the beloved Belgian boy detective, his dog Snowy and drunk friend Captain Haddock. Better known in Europe than the States, this is a hit over on the Continent, where it's made $250 million already. But don't let that fool you: this is a gorgeous, rip roaring adventure that recalls Indiana Jones in a motion capture suit and a lot less snark. Recommendation: The whole family will enjoy this one, whether for its gorgeous visuals or harkening back to old cartoons.

Cameron Crowe's first film since the 2005 flop "Elizabethtown," this is a family-friendly flick starring Matt Damon and Scarlett Johansson about a widower who quits his job and... get ready for it... buys a zoo. At points treacly but just real enough to avoid cliche, the film has struggled at the box office. But if you're looking for an alternative to all the action being offered today, this is the go-to film. Plus, animals!

Far less heralded than the first in the series, this Guy Ritchie-directed sequel starring Robert Downey Jr. and Jude Law packs guns and cross dressing into the classic detective story. It won the box office last weekend, though it disappointed with $40 million, and is continuing to take in a decent clip of cash. Incidentally, Noomi Rapace, the girl who starred in the original Swedish 'Girl with the Dragon Tattoo' films, features in this one. Recommendation: If you're looking for a wink with your action, there is no one better than Downey.

Martin Scorsese's 3D ode to classic cinema hasn't done big business at the box office, but many people think it's the best film of the year (many of those people work in film, so there's a bias, but still). The whole family can and should see this story, about an orphan boy living in a train station in early 20th century Paris and the adventures that lead him to one of the fathers of cinema. Recommendation: As we said, everyone can and should see this movie.

Tom Hanks and Sandra Bullock support the debut of young Thomas Horn in this tear-jerking adaptation of the Jonathan Safran Foer post-9/11 novel about a boy who seeks out secrets he believes were left for him by his father before he passed on that tragic day in New York City. Recommendation: If you feel a need to be sad or at least profoundly affected, this is your flick.