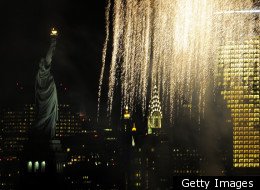 What was a remarkable year in news across the world, was also a remarkable year here in the Big Apple.
Top officials resigned, a grisly murder in Brooklyn captivated the country, there was an earthquake AND a hurricane, NYPD scandals, a somber anniversary, and a protest in a small park downtown.
A few days before the ball drops in Times Square, a look back at 2011 in New York:
(AP Photo/Mike Groll) April 7, 2011 After three months of gaffes (a Sophie's Choice comparison and a tasteless birth-control joke) and an abysmal 17 percent approval rating, Cathie Black steps down as schools chancellor in New York City. Bloomberg, who hired Black, a magazine executive with no experience in education, says, "I take full responsibility for the fact that this hasn't worked out as expected. The story had become about her and away from the kids." Deputy Mayor Dennis Walcott becomes the new chancellor.

While aboard a plane about to depart from JFK on May 14, Dominique Strauss-Kahn, the managing director of the International Monetary Fund, is arrested on charges of sexual assault and attempted rape. A 32-year-old Guinean immigrant, Nafissatou Diallo, a maid at the Sofitel hotel, accuses Strauss-Kahn of forcing her to perform oral sex inside his suite. Stauss-Kahn, who many considered the frontrunner to succeed Nicolas Sarkozy as the President of France, is treated to the perp walk and sent to Rikers Island. He is later placed under house arrest in a luxe Manhattan apartment and is replaced as manager of the IMF. As the case unfolds, however,doubts emerge as to Diallo's version of events, and Strauss-Kahn maintains the incident was consensual. Eventually, after three months, the case is dismissed and Strauss-Kahn goes back to France-- only to face more accusations of sexual assault.

The tabloids' favorite story of 2011. On June 16th, Democratic Congressman Anthony Weiner, who represents parts of Brooklyn and Queens, resigns from office after lewd photos he sent to women on Twitter surface. Later, a Republican, Bob Turner, wins his seat in a special election. But 2011 isn't all bad for Weiner and his wife, Huma Abedin, formerly an aide to Hillary Clinton. On December 21, the couple welcomes a new baby boy into the world, Jordan Zane Weiner. The New York Post, naturally, runs with a front page headline reading, "A Little Weiner", "Baby boy for Huma and louse."

June 24, 2011 After weeks of contentious debate and negotiations in Albany, the GOP-controlled state senate passes a bill, 33-29, allowing same-sex marriage in New York. Governor Cuomo, who organized the state's disparate gay rights advocacy groups into a giant campaign for the bill, signs it into law. On July 24th, when the law goes into effect, multitudes of same-sex couples in New York tie the knot. New York is the sixth and largest state in the US to adopt gay marriage.

In between games of a Hasidic softball league in Crown Heights, neighbors bring blue and white balloons onto the field, passing them out to players and spectators alike, in memory of murdered Brooklyn boy Leiby Kletzky. July 13, 2011 The dismembered body of Leiby Kletzky, a 9-year-old boy living in Brooklyn's Hasidic community, is discovered in the home of Levi Aron and in a dumpster. Kletzky had gone missing two days earlier, launching a massive search effort. Investigators are able to track down Aron from a surveillance video showing the 35 year-old being approached by the lost boy. Kletzky had begged his parents to allow him to walk home from summer camp alone for the first time. When detectives enter Aron's apartment, they see blood on the freezer door and open it to discover bloody knives, a cutting board and feet inside. Aron is awaiting trial for Kletky's murder and a psychological evaluation shows him to be "deeply troubled," but still fit to stand trial. In October, Aron's attorney, Henry Greenberg, publicly announces his intention to enter a not guilty plea by reason of insanity despite the evaluation's results. If the insanity defense is rejected, Greenberg says "You can quote me on this. I will quit the practice of criminal law if Levi Aron is not found insane."

Tremors from an unusual magnitude 5.8 earthquake that strikes Virginia are felt in New York City. It lasts for 15 or so seconds, and there is hardly any damage, but the quake still sparks some East Coast/West Coast rivalry, spawns an original tattoo, and shakes up the Twittersphere.

A blockbuster report from the Associated Press reveals the NYPD has been cooperating with the CIA since September 11, 2011 to spy on Muslim communities in New York City. From The AP: Police have also used informants, known as "mosque crawlers," to monitor sermons, even when there's no evidence of wrongdoing. Neither the city council, which finances the department, nor the federal government, which has given NYPD more than $1.6 billion since 9/11, is told exactly what's going on. The report causes a stir in Muslim communities and civil liberty groups, but New Yorkers as a whole seem ambivalent to the news. More than two dozen member of the US Congress are now calling for a federal investigation into the relationship between the NYPD and CIA.

Before the storm hits, Bloomberg shuts down the trains. There is a mass evacuation. Everyone suddenly lives in Zone A, B or C. People frantically stock up on goods. And then, well, it just kind of rains.. Hurricane Irene lands in New York City as a tropical storm, packing 65 mph winds instead of the anticipated 100. Trees are damaged, there is some flooding, but for the most part, the damage is minimal and Bloomberg (who was likely compensating for his handling of the blizzard) gets a ratings bump. Upstate, however, is devastated by the storm. Mass flooding destroys small towns and farms, and of the 44 people killed across the Eastern seaboard, 9 are in New York.

A particularly violent Labor Day weekend culminates in bloody shootout in Crown Heights after the West Indian Day parade that leaves an innocent bystander, 57-year-old Denise Gay, dead from a bullet wound to the head. When all is done, the three-day weekend sees 67 people in New York shot and 13 dead. On Tuesday morning Mayor Bloomberg blames the violence on national gun laws. "This is a national problem requiring national leadership," Bloomberg says, "but at the moment neither end of Pennsylvania Avenue has had the courage to take basic steps that would save lives."

NEW YORK, NY - SEPTEMBER 11: Robert Peraza, who lost his son Robert David Peraza, pauses at his son's name at the North Pool of the 9/11 Memorial during tenth anniversary ceremonies at the site of the World Trade Center on September 11, 2011, in New York City. (Photo by Justin Lane-Pool/Getty Images) For more on the tenth anniversary of 9/11, go here.

On September 17th, a few hundred protesters "occupy" an obscure privately-owned public space in lower Manhattan to protest financial greed and corruption. The Occupy movement, unlike anything seen since the 60s, then spreads to more than 950 cities in 82 countries. And although most of the protesters' physical encampments have since been lost to forcible eviction, the movement has had its impact (online searches for income inequality, for example, have skyrocketed) and protesters are busy preparing their second act.