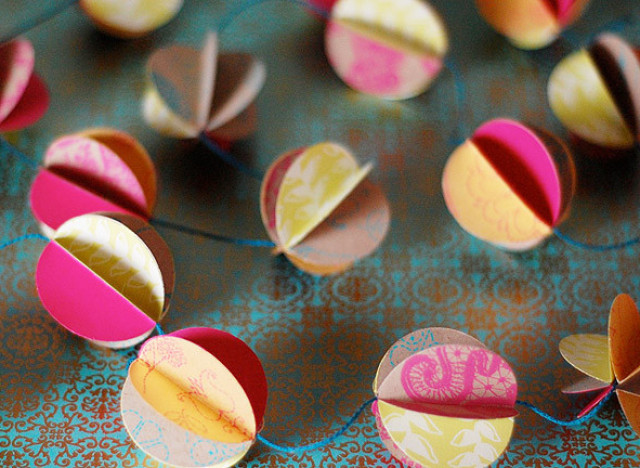 Photo by Laurie Cinotto for Allison Abad of Hambly Screen Prints
You can never have too many garlands! This Craft Of The Day makes a perfect New Year's Eve decoration, but we also love it for everyday use. Hang one over your bed, around your craft table or in the window sill for a fun pop of color.
What You'll Need
Decorative paper
Circle craft-punch (2-inch diameter works best)
Paper glue
String
How To Make It
1. Punch out seven circles for each ball in your garland.
2. Fold all of your circles in half, folding in on the decorative side.
3. Select seven circles and glue them back to back to create a half-circle book.
4. Run the string through the 'spine' of the book.
5. Glue to form a ball.
6. Continue adding balls until your string is covered and hang up your garland!
For the full photo tutorial, visit Hambly Screen Prints. And, be sure to check out the other great crafts in our Craft Of The Day slideshow below.
PHOTO GALLERY
BEFORE YOU GO
Craft Of The Day
PHOTO GALLERY
Craft Of The Day