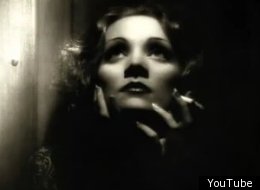 Those eyebrows. Those cheekbones. That Marlene Dietrich.
It's the screen goddess' 110th birthday, and to celebrate, we've put together some of the best homages history has made to the German actress and singer. Famous for films including "Shanghai Express" and "The Blue Angel," Dietrich died in 1992, leaving behind a legacy of sight and sound that still gets referenced today.
Stars including Scarlett Johansson, Heidi Klum, and even Marilyn Monroe have posed as Dietrich, sporting the signature pencil-thin arches, waved hair and shaded in cheekbones. In January, it was announced that Gwyneth Paltrow would play the role of Dietrich herself in an upcoming biopic. There's even a perfume dedicated to her memory.
But of course, tribute's also been paid in the format that Dietrich herself occupied -- moving pictures. Read on for our compilation of some of the best:
Madonna struck more than one pose in her video for "Vogue." But Dietrich's high-cheekboned, intense-stare stands out.

In this video for Dior's J'Adore perfume, Charlize Theron appears alongside screen legends Grace Kelly, Marilyn Monroe, and of course, Dietrich.

For the cover of his album "Hunky Dory," David Bowie paid homage to Dietrich, showing off his own cheekbones with a slicked back do. The singer even starred in a movie -- the 1979 "Just a Gigolo" -- alongside Dietrich herself.

Behind the scenes for the shooting of "Best Thing I Never Had," Beyonce did her best to channel Dietrich, just as she did on her cover shoot for L'Uomo Vogue. "Writers, composers, painters -- also like directors and actors fall into the same category. They have to be handled with kid gloves, mentally and physically," Dietrich once said -- Beyonce followed suit.

In the Mel Brooks comedy, "Blazing Saddles," Madeline Kahn plays Lili Von Schtupp -- a parody of Marlene Dietrich. Even under the heavy accent, less than graceful dancehall moves and frowsy black lace, some of Dietrich's original charisma manages to get through.

Suzanne Vega's song "Marlene on the Wall," features the singer done up as Dietrich, while she sings a somber love song about a portrait of the actress watching her romance fall apart. "Marlene watches from the wall / Her mocking smile says it all / As she records the rise and fall/ Of every man who's been here," she sings.

Broadway great Carol Channing has played a lot of dames in her career, but here, she plays Marlene Dietrich for laughs, in a perfectly overdone German accent.

And who says you have to be a woman to play Marlene Dietrich? Here's former Doctor Who, Colin Baker, taking it away with a splendid drag performance of "Danke Schoen" that plays like a booze-sozzled mix between Sally Bowles and the real deal.

But of course, no one does Marlene Dietrich like ... Marlene Dietrich. Here she is singing "Lili Marlene" in "Judgement at Nuremberg."