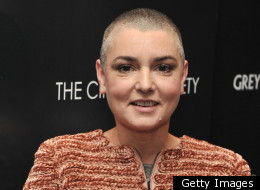 Sinead O'Connor announced Monday that she's divorcing Barry Herridge just 18 days after the newlyweds tied the knot.
O'Connor wrote on her personal blog that she and Herridge "part amicably," emphasizing that she's ending their brief relationship because she loves him.
"He has been terribly unhappy and I have therefore ended the marriage," she explained. "I can't take anyone's life. And a woman wants to be a joy to her husband. So.. U love someone? Set them free."
This is the fourth failed marriage for O'Connor, who was previously married to music producer John Reynolds, journalist Nicholas Sommerlad and guitarist Steve Cooney. O'Connor and Herridge met online, when Herridge responded to the singer's plea on her website for a "sweet, sex-starved man."
O'Connor's brief union makes Kim Kardashian's 72-day marriage look positively long by comparison. But she's not the first celebrity to call it quits after merely two weeks. Below, seven stars whose marriages were shorter than hers:
Shortest Celebrity Marriages
Mario Lopez and Ali Landry dated for six years before tying the knot in Puerto Vallarta in April 2004. Less than two weeks after the ceremony, the couple split amidst rumors of Lopez's infidelity. The Extra host recently confessed his indiscretion to Sirius radio host Howard Stern. "It was my bachelor party," he said February 2011. "That was a situation where I was not mature and man enough." Landry told Parent Dish in August 2010 that their short-lived marriage was "the worst thing that ever happened to me. I have never been betrayed by somebody like that," she said.

Odd couple Dennis Rodman and Carmen Electra got married in November 1998 at the Little Chapel of the Flowers in Las Vegas. Nine days later, Rodman filed for annulment, claiming he was of "unsound mind" when the pair wed. They reconciled soon after, only to divorce again six months later. In August 2006, following Electra's second divorce from rocker Dave Navarro, Rodman told Star magazine that he was the reason for the split. "Carmen called me six months ago," he said. "She told me I was the love of her life and she wished we'd stuck together."

Three days after finalizing her divorce from Sonny Bono, Cher married rocker Gregg Allman in a quickie Las Vegas ceremony. "One Sunday morning I woke up and she said, 'I got this Lear jet and Nevada ain't too far away. Why don't we get married?'" Allman has said. Merely nine days later, Cher--fed up with Allman's drug and alcohol abuse--filed to dissolve the marriage. The couple reconciled but ultimately divorced again three years later after Cher gave birth to their son, Elijah Blue.

Dennis Hopper married his second wife, Mamas and Papas singer Michelle Phillips, in 1970. Their brief union lasted eight days. According to the Daily Mail, Hopper woke up so stoned the morning after their wedding that he didn't recognize his new bride. Phillips has said that she divorced him because of his sexual demands, and told Vanity Fair that she was subjected to "excruciating" treatment while with the actor.

Less than 55 hours after tying the knot with childhood friend Jason Alexander at the Little White Wedding Chapel in Las Vegas, Britney Spears' lawyers filed for an annulment. "It was just crazy, man," Alexander told Access Hollywood following the brief nuptials. "We were just looking at each other and said, 'Let's do something wild, crazy. Let's go get married, just for the hell of it." In December 2010, Alexander told Star magazine that Spears had confided in him that her current boyfriend--Jason Trawick--was abusing her. Spears and her reps adamantly denied the allegation.

In 1982, Zsa Zsa Gabor married her eight husband Felipe de Alba before her divorce from seventh husband Michael O'Hara was finalized. The marriage was annulled one day later. The pair didn't make it to the altar for the second time because "he bored me," Gabor told The Chronicle Telegram in 1982. "He's a playboy and I'm a hard working actress."

Mike Tyson's ex-wife Robin Givens married her tennis instructor Svetozar Marinkovic in 1997 and separated from him that same day. Marinovic later told reporters that the marriage lasted seven minutes.