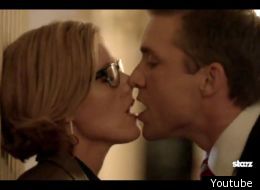 In a Los Angeles Times piece Wednesday, T.L. Stanley writes that adultery plot lines are mushrooming on the small screen, so much so that "Prime-time TV is starting to look like an ad for Ashley Madison."
The author cites cynicism about marriage and high divorce rates as partially to blame for the "proliferation of adultery on TV," noting Pew Research Center's recent report on record-low marriage rates.
But is infidelity really having a moment? Or have affairs long been staples of prime time? Click though the 10 TV shows below and let us know in the comments.
On Showtime's hit drama "Homeland," returned POW Captain Brody (Damian Lewis) has an affair with Carrie Mathison (Claire Danes), a CIA operations officer.

On "Boss," upcoming politico and state Treasurer, Ben Zajac (Jeff Hephner) has an affair with Kitty O'Neil (Kathleen Robertson) as well as other female characters.

On "Gossip Girl," Upper East Side socialite Blair Waldorf (Leighton Meester) continues an emotional and often physical affair with Chuck Bass (Ed Westwick) while she is pregnant with and engaged to Prince Louis Grimaldi (Hugo Becker).

On "The Good Wife," Will Gardner (Josh Charles) and Alicia Florrick (Julianna Margulies) have an on-going affair that concludes in Season 3.

On "New Girl," Jess (Zooey Deschanel) moves in with three strangers after she walks in on her live-in boyfriend cheating on her.

On HBO's "Game Of Thrones," King Robert Baratheon (Mark Addy) regularly sleeps with women outside his marriage to Queen Cersei Lannister (Lena Headey).

On "The Walking Dead," Lori Grimes (Sarah Wayne Callies) develops a sexual relationship with her husband's former colleague and best friend, Shane Walsh (Jon Bernthal).

On "American Horror Story," Dr. Ben Harmon (Dylan McDermott) has an affair with one of his students while his estranged wife, Vivien Harmon (Connie Britton), is pregnant.

On "Deperate Housewives," the neighborhood regularly engages in extramarital relations -- and often with their own estranged spouses -- to cope with their inner demons.

On "Ringer," Sarah Michelle Gellar plays twins Bridget Kelly and Siobhan Martin, and when Bridget impersonates Siobhan, sexual dalliances outside of wedding vows occur.