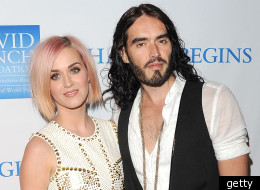 It may seem silly to take marriage advice from Hollywood celebrities--a group who don't seem to take marriage vows all that seriously (really, Kim Kardashian? 72 days?)
But despite the break-ups, broken engagements, scandals and divorces that seem to characterize this group, some famous couples still make it work. And though we rarely hear about successful marriages in Tinseltown, some couples are speaking out about how they've stuck together through thick and thin.
Here, ten married celebs give us a glimpse into their Hollywood marriage this year, offering up advice, anecdotes, and their secrets on the subject. Click through the slideshow below to hear what these famous faces have said about their own marriages.
Favorite Celeb Marriage Quotes Of 2011
In a July interview with the British Marie Claire, Gwyneth Paltrow talked about her seven-year marriage to Coldplay singer Chris Martin, admitting that their relationship "isn't perfect." The usually tight-lipped actress and mother of two revealed how the two make it work: "I think the reason it's worked so far is because we are very open with each other and communicate well. We try and make life as normal as possible."

On Valentine's Day this year, First Lady Michelle Obama opened up about her marriage to President Obama, telling reporters at a White House luncheon: "I think in our house we don't take ourselves too seriously, and laughter is the best form of unity." The couple has been married for over 15 years and have two daughters, Malia and Sasha.

At the BAFTA Los Angeles 2011 Britannia Awards in November, actor Ben Stiller offered up some tongue-in-cheek advice on the secret to a long marriage: "Neglecting your children probably is the key," the comedian jokingly told "Access Hollywood." "Because that just opens up so much time for your career. And for your marriage too." But Stiller also gave some serious advice as well, saying, "Honestly, you have to make time for what's important." He has been married to wife Christine Taylor for 11 years.

Russell Brand went out of his way to blast divorce rumors in November, telling the audience on "The Ellen DeGeneres Show" that he was "really happily married" to his wife Katy Perry. "I'm married to Katy perpetually. 'Until death do us part' was the pledge. I'm still alive!" the British comedian quipped. Brand and Perry married in India in October 2010. The couple have no children yet, but both have said that they would like to have kids some day.

In May, Heidi Klum sat down with Good Housekeeping to talk about her marriage to Grammy Award-winning artist Seal. "I get asked so many times that I ask myself, Why does [our marriage] work so well? Maybe it's just because it's real. We love each other. We love our kids. We have fun with each other," said the mother of four. "We may be parents, but we can still make time to be a couple." The pair has been married since 2005 and renew their vows yearly.

After tying the knot to Lamar Sally in August, "The View" co-host Sherri Shepherd had a lot to say about married life. She told The Huffington Post in an exclusive interview: "Marriages are work, but I like the person. If you're going to go through the valleys and the hills, you want to figure out who you want to go through it with. So I got a good guy." Shepherd has one son from her previous marriage to Jeff Tarpley.

In November, R&B artist Ginuwine opened up about his marriage to rapper Solé, telling ThisIs50: "I am a great father, an okay husband. We've been married seven going on eight years. A lot of artists that get married they usually don't stay together. I'd rather be an example of how to be than not to be." The couple, who wed in 2003, have two daughters together. When asked about their relationship, the singer said, "I fell in love, I am still in love and I married her."

In an exclusive interview with The Telegraph, actress Sarah Jessica Parker dished on her marriage to actor Matthew Broderick, saying "We've been together for 20 years and you have good days, you have decent days, and you have bad days. That's a marriage. That's a relationship. That's a friendship, even -- relationships outside the marriage run the same course." The couple, who have been married since May 1997, have three children together.

In February, Colin Firth shared the secret to his long-lasting marriage to Livia Giuggioli on "Piers Morgan Tonight," noting that the couple has made it work for 15 years. "I think that's pretty good going, by Hollywood standards. And it's going to go on forever," said the actor. "You just navigate things on a daily basis. We are crazy about each other. We're very committed on a daily basis to how we deal with our family lives. But the real secret is time -- we have to make sure that we spend enough time together." The couple married in 1997 and have two sons together.

In November, Katherine Heigl dished on how she keeps her marriage to husband Josh Kelley strong, telling "Access Hollywood" at the American Music Awards: "[Marriage is] not easy, but it is ideal if we both have our own thing, our own passions, our own focus on our careers. We're happy because we have these great careers." The couple has been married almost four years and have a three-year-old daughter together.