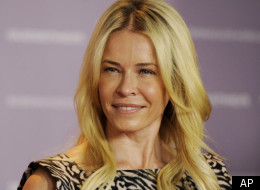 E!'s Chelsea Handler really came out on top this year. Her fourth book, "Lies That Chelsea Handler Told Me," hit number one on the bestseller list, her "Chelsea Lately" ratings are through the roof, and she's one of the most sought-after bachelorettes in Hollywood.
So what could Handler possibly resolve to do in 2012 to make life better?
"I resolve to attempt, at least once, to clean up my dogs' shadoobies, despite the malodorous stench," Handler told The Huffington Post. "Though someone else will have to clean up my vomit."
We asked her fellow "After Lately" stars what their 2012 resolutions were as well, although Handler's faithful sidekick, Chuy, was obviously confused.
"What does resolution mean?" he asked.
The rest of the gang was a little more forthcoming. Check out their New Year's resolutions below!
The next new episode of "After Lately" airs New Year's Day at 11 p.m. on E!
"I resolve to NOT sign-up for a gym this year. I always pre-pay for the year to get a lower per-month rate and then never go. I'll be flabby and fine with it. Hasn't seemed to bother my wife yet."

"My New Year's resolution is to punch anybody that tells me about their New Year's resolutions. Right in the face."

"I resolve to cut back on my drinking during the week. I will only drink Chardonnay during the airing and re-airing of 'Real Housewives of Beverly Hills' and 'Orange County.' I will switch to Merlot for 'Real Housewives of New Jersey' and 'New York.'"

"My resolution is to not gain my weight back and to have sex with Robert Downey Jr. (if his wife is okay with it). If he says no, I'll probably just gain my weight back."

"My News Year's resolution is to not take any crap from Chelsea or any of my coworkers...unless Chelsea actually gives me a box with her crap in it. Then I guess I'd take that."

"My resolution is to make sure I put my b--ls on everything in the office."

"My resolution is to get to appear on television without having to stuff my fat face while doing so."

"This year, my New Year's resolution is to actually enjoy "New Year's Eve" -- not December 31st, but the movie with all the stars in it. Last New Year's Eve I prayed that Bon Jovi would make more movies, and that worked out. I will try to ignore the fact that you can almost hear Robert DeNiro's car running off-camera as he rolls his eyes through this comic masterpiece. And please, please, please let the Gods of New Year's smile on the horribly unattractive Jessica Biel and let someone be there to kiss her at the end of this cinematic gem."