Jason Taylor To Retire: Dolphins Star Calling It Quits After Season Finale Against Jets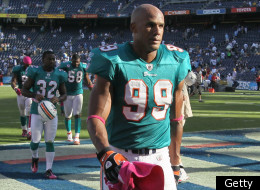 After the Miami's season finale against the New York Jets on Sunday, the Dolphins will lose one of their long-time stars and one of the NFL's all-time sack leaders. According to Armando Salguero of the Miami Herald, defensive end Jason Taylor plans to retire after the 2011 season.
Taylor is the active league leader for career sacks with 139.5 (most in Dolphins history), which only ranks behind Bruce Smith, Reggie White, Kevin Greene, Chris Doleman and Michael Strahan on the all-time list.
Selected in the third round of the 1997 draft by the Dolphins, Taylor played his first 11 seasons with Miami. The 37-year-old also played for the Redskins and Jets, but returned to Miami before the season.
The 2006 Defensive Player of the Year has seven sacks this season to along with one forced fumble.
It has been no secret that Taylor has been looking forward to his post-NFL career, having already appeared on Dancing With The Stars in 2008 as a possible prelude to an acting career.
Story developing..